The short answer would be a resounding 'yes'! We're not just saying this because you can now start renting a laptop on RentoMojo. 😉
If you're like us, you think of a long-term ownership as well when it comes to laptops. With the barrage of laptops with the latest technology available in the market, it's not just difficult to pick one, but finding one in the right budget. As the flag-bearer of the concept of renting and its benefits, we can't stress enough on how buying in one go always burns a big hole in our pockets. Of course, there's EMI but that's how we end up paying so much more than the actual price with the exorbitant interest rates. Plus, you need a credit card if you're taking anything on EMI. While debit card EMIs options have emerged, it's only available with a few banks.
There are a lot of things that we need to take into consideration when we plan on buying a new laptop. So, how can you make this process easier? We have a solution for you. Start renting a laptop!

Why renting a laptop is a better option?
1. Owning a laptop is not an expensive affair anymore
When you buy laptops, upgrading to a new one every year becomes an expensive affair. Renting makes it easier to upgrade to a newer one without breaking the bank.
To pay the full amount while buying a laptop essentially means shelling out a huge chunk of money. On the other hand, if you take it on EMI, you'll be paying much more than what the actual price is. That is why renting laptops is a more affordable option. You'll be paying lesser than the EMI and you can own it later if you'd like to.
2. You can upgrade to a newer model every year!
If you are someone who likes to keep up with the technology and upgrade to a newer laptop often, renting is the best option for you. You can easily upgrade to newer models every year without any hassles. Keeping up with the latest technology is no longer going to cost you an arm and a leg.
3. Love your rented laptop? Then own it!
Say you have rented a laptop and you have been using it for a year. You are really comfortable with it and you know that you want to continue using the same one for a couple more years. Then, you can choose to own the laptop after 12 months of renting. All you have to do is pay a nominal amount and the laptop is all yours!
4. Avoid the hassles of buying a laptop. Rent one instead!
When it comes to buying versus renting with RMI (Rental Monthly Installment), the latter is definitely the more convenient, practical and affordable option. With RentoMojo, you can use the product first and buy later. Not just that, you won't even have to worry about getting a low resale value or finding a buyer. To buy a laptop on EMI, you need a credit card. But when it comes to renting, you do not need a credit card. You can use it for a few months and then choose to close your rental subscription anytime but with EMI you do not have that flexibility.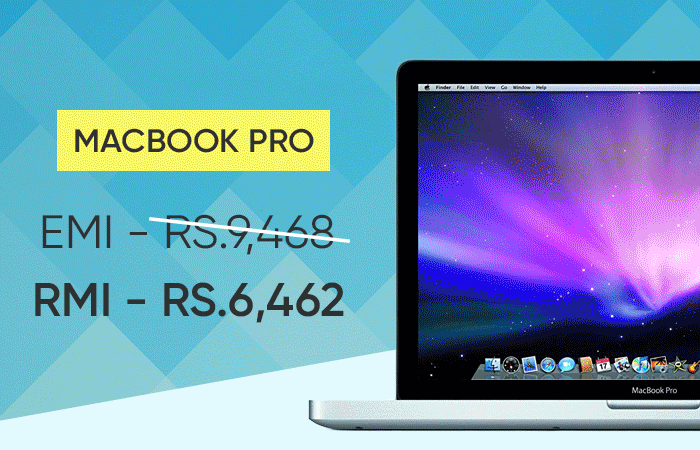 It's hard to say no when you get a deal that includes:
a premium laptop

lower monthly installments

easy returns

an option to close early

option to buy later

damage waiver

and a lot more amazing things,
Make the smart choice. Rent a laptop!