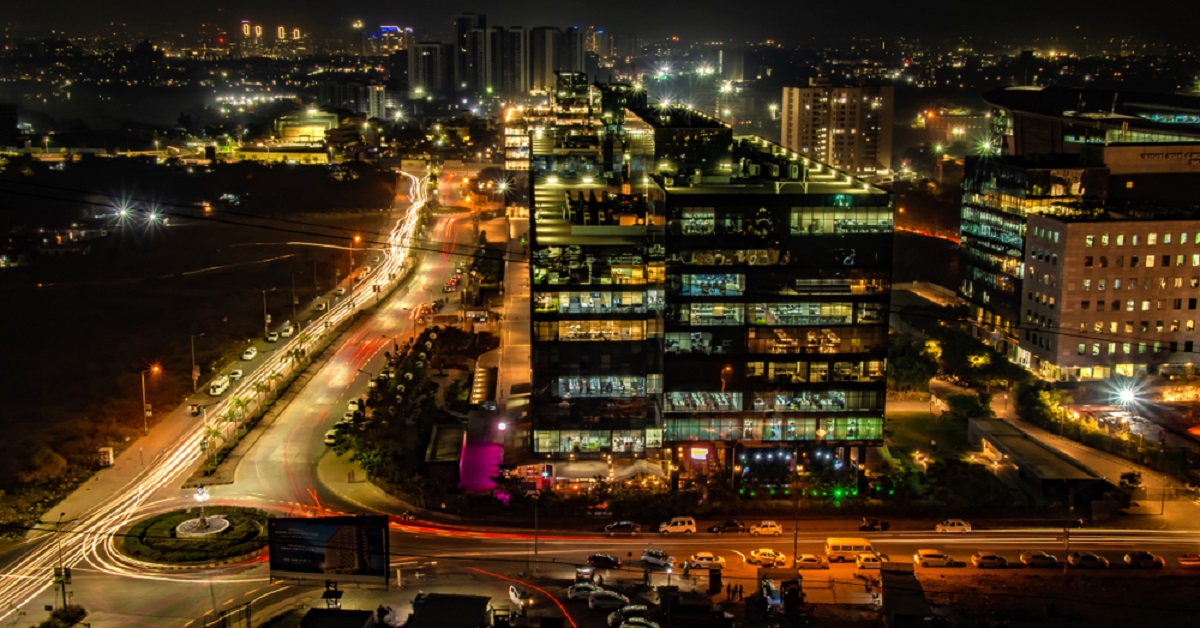 With all the young and bright relocating to the Queen of the Deccan, it's no surprise that you're looking to be a Punekar too!
Located amidst the beautiful and scenic foothills of the Sahyadri mountains, Pune enjoys pleasant weather all year round. Moreover, it's not as extreme as the cold in north India or as warm as the sultry heat in south India. Pune also receives plenty of rainfall during July, August, and September. While you might be stressed with work, Pune will always cool you down with its pleasant weather over a cup of adrak-elaichi chai.
With a city so young and vibrant, Pune is like a smaller half of Mumbai—only less crowded and polluted. Also fondly known as the cultural capital of Maharashtra, Pune has always been a place of rich culture and tradition with an inherent connection to literature, music, and theatre. Although Marathi is the native language of the city, Hindi and English are popularly spoken by the locals too.
Pune is also one of the few fastest growing cities in India to have seen tremendous growth and development since India's independence. The educational fervor in Pune is so strong that it's called the 'Oxford of the East' for the vast number of premier universities and schools. Symbiosis, Ferguson, anyone?
There's nothing like being a Punekar in a beautiful, spirited city of smiles and opportunities. But, we know what you're thinking. No, not misal pav (more on this later). Here's your complete guide from getting started to deciding the area to rent a flat in Pune.
What's the average cost of living in Pune?
For a city that is the eighth-largest metropolitan economy and the sixth-highest per capita income in India, Pune is still considerably cheaper than Mumbai and other major cities. The cost of living index in Pune is 27.44, which is 0.89% lower than Bengaluru. It's always a good idea to know how you're spending your money and how much you can save. Here's an approximate breakdown of how much you'll be spending to survive in Pune.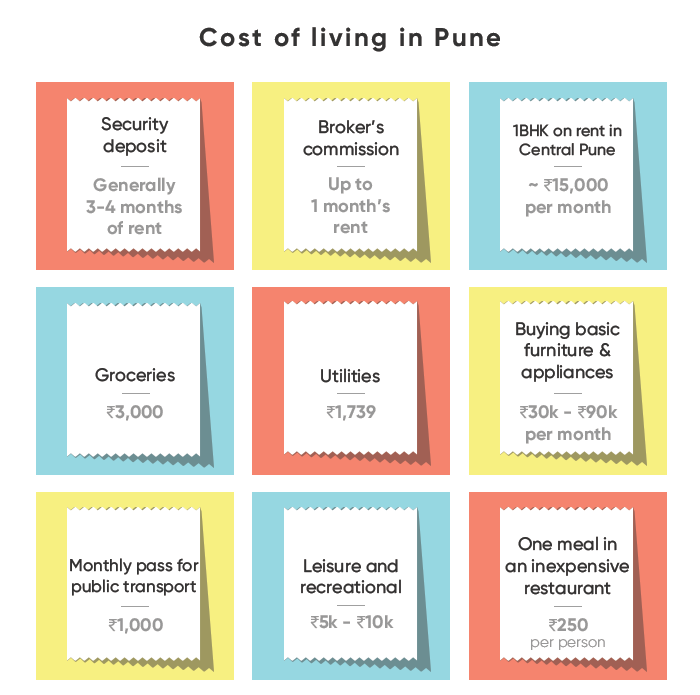 Where should I stay?
Every year, Pune welcomes thousands of people looking for a wonderful metropolitan city experience. And, it manages to do so by effortlessly weaving a tale from the wonders of history and the elegance of a cosmopolitan city. Here are some quick pointers to help you decide where to stay in Pune.
Daily commute
Unlike Mumbai's BEST buses and the convenience of the inter-connected train route, Pune has only one local railway system in Pune that runs from Pune station to Lonavala. There is no metro or monorail yet, but it's underway and is expected to be operational by 2022. However, Pune has good connectivity of highways and expressways. You can try the PMPML (Pune Mahanagar Parivahan Mahamandal Limited) and BRTS (Bus Rapid Transit System) bus service or three-wheeled rickshaws. Regardless of your mode to commute, your best bet is to find a place that is within 5 km from your workplace to beat the traffic and afternoon heat.
Area and locality
From a pensioner's paradise to a booming metropolitan city, you'll find plenty of apartments, gated communities, and townships in the city. As a city, Pune is slow-paced, relaxed and less crowded than the older sibling, Mumbai. Pune was also ranked as the No.1 city in terms of liveability in the Ease of Living Index (2018).
Pune has also been known to be a very safe city with a low violence rate. Ideally, it's a better option to choose a place that's convenient to travel across the city and your workplace.
Convenience stores and amenities
It's good to get acquainted with your surroundings by scouting for convenience stories and significant places around your potential accommodation to get a good sense of the locality. Besides being cheaper, safer and way more spacious, Pune has plenty of malls and shopping complexes that will cater to all your needs. If you're the kind who loves shopping, malls like Phoenix Market City, Amanora Town, Seasons Mall, Inorbit and Pune Central will cater to all your needs. If you're interested in a little roadside shopping, MG Road, Laxmi Road, and FC Road will leave you wanting for more.
#MojoTip: When at any shop, don't forget to greet the shopkeeper with Dada (uncle) or Maushi (aunty), it'll go a long way in bonding with the shopwala uncle for any help and extra favors!
Leisure and recreational
Pune is literally like a kaleidoscope with something for everyone at every avenue. There's a lot to do in Pune because of the accessibility and convenience of being located in a prime location. From historical architectures like the Shivneri fort to road trips to Lonavala, Pune will leave you stunned with its breath-taking sights.
From the spicy Misal Pav mix at Bedekars to Bhakarwadi at Chitale Bandhu, prepare to drown your tastebuds with the quintessential Puneri delicacies. If you're the kind who fancies the nightlife, charismatic boozy pubs like Penthouze High Spirits, Mi A Mi or Area 51 will drive your weekday blues away, and then some more.
How do I find places to rent?
Finding a house on rent in Pune without brokerage can sound like a daunting task. If you're not already bothered by the expensive broker's fee and tedious routines to look for a place, walking around and trying to look for a home can be pretty exhausting. Here's something to get you a solid lead on your house-hunting!
Facebook Groups and pages:
Find house rentals, flatmates and more with these groups and listings on Facebook. If you aren't already part of these groups on Facebook, sign up and don't forget to turn on post notifications to stay on track with upcoming posts.
Apps & platforms:
Already on the 3rd page of your internet search? Here's an easier alternative.
NestAway

Housing.com

Commonfloor

Makaan

99acres

Magicbricks

Quikr Homes
What is the cost of renting a house in Pune?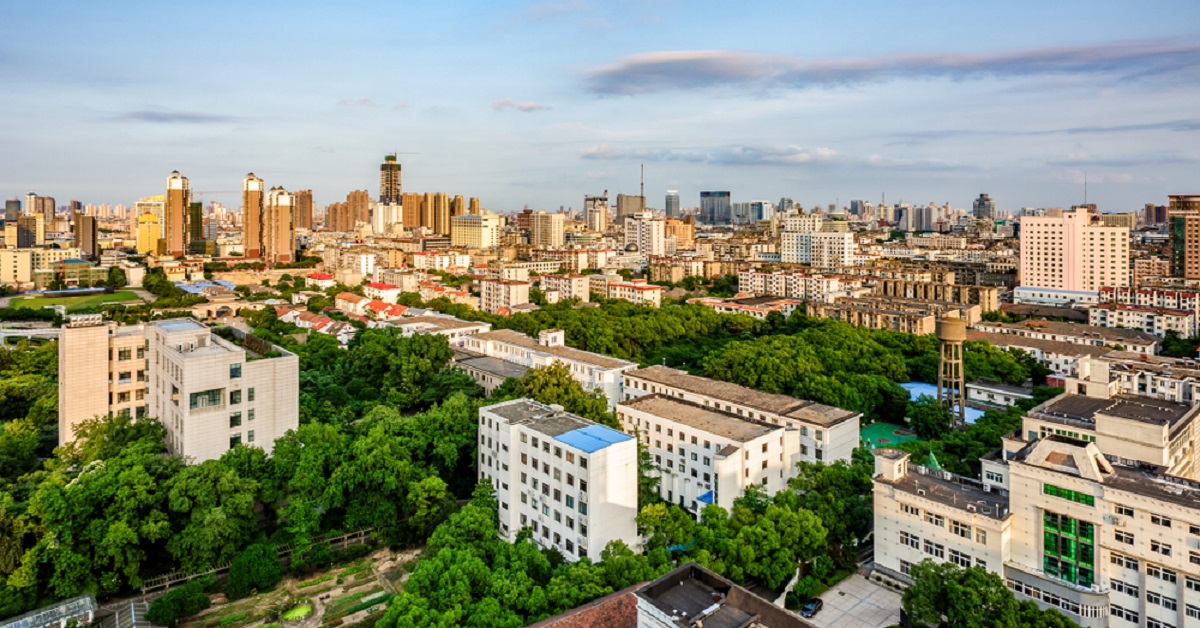 The cost of renting a house is something to consider when relocating, especially since it would set the tone for all your expenses and budget. The cost of living in Pune is relatively reasonable, food joints are inexpensive, and inter-city travel is affordable too. It's advisable to find a place that is closer to your workplace to save time and travel expenses.
You don't have to break a sweat about finding a place in Pune, it's still easy to find a 1bhk flat on rent in Pune than Mumbai.  Try to avoid the central city at places like Rasta Peth, Kasba Peth, and other areas as they're mostly congested.
Let's get started then! Here's a list of places with approximate rentals as per area/locality in Pune. 
Kothrud
Situated amidst the scenic south-west region of Pune, Kothrud was named as one of the fastest developing suburbs in Asia by the Guinness Book of World Records. Owing to its prime location, improved connectivity, and infrastructure development, Kothrud is a popular choice among young IT professionals and students. Although Kothrud is one of the poshest and upmarket areas in Pune, the rental trends are relatively reasonable compared to other areas in major cities.
Rental trend:
1BHK: 12-18k
2BHK: 22-30k
Wakad
A suburb located in Pimpri Chinchwad, Wakad falls in the outskirts of Pune city. Wakad has seen immense growth over the past years, mostly owing to the proximity to Hinjewadi IT park and Pune-Mumbai expressway. Wakad has seen phenomenal growth of residential complex and localities because of state-of-the-art infrastructure, regular water, and electricity supply. Wakad has mostly been home to a young crowd working for Infosys, Tata, Cognizant, TCS. Thus, making it one of the ideal options to stay in Pune.
Rental trend:
1BHK: 10-15k
2BHK: 18-25k
Kharadi
Located on the eastern side of Pune, Kharadi shares proximity to the Airport, Koregaon Park, Cyber City, and Kalyani Nagar. Kharadi is also one of the upcoming places that currently houses important business, and IT parks like EON Free Zone (SEZ), Zensar park and World Trade Centre Pune. Finding a place in Kharadi should be fairly easy and affordable. The only catch is that since it's a new and upcoming place, there are very few convenience stores and malls around.
Rental trend:
1BHK: 13-16K
2BHK: 14-26K
Hadapsar
Known as the IT and ITES center of Pune, Hadapsar has seen a remarkable transformation over the years. Previously surrounded by farms, Hadapsar's turning point was the development of the three SEZs, namely Magarpatta, Amanora Park Town and SP Infocity. Popular corporate organizations like IBM, TCS, SAS have also established major offices in the vicinity.
Hadapsar also has various tourist attractions like Kanifnath Temple, Mastani Talav and Purandar Fort. The presence of popular shopping centers, reputed hospitals, convenience, and amenities store has further paved the way for a solid city experience.
Rental trend:
1BHK: 10-14k
2BHK: 14-22k
Baner/Pashan/Aundh
If staying close to Hinjewadi IT park is crucial to you, look no further than the Baner- Pashan-Aundh stretch. Although slightly expensive, Aundh is a flourishing suburb with restaurants, pubs, and malls. Balewadi is also an excellent option to consider as it's not as commercialized as the other towns and enjoys a peaceful neighborhood. If you want something akin to Koregaon Park, Baner will be the ideal choice for the diverse and developed communities. Absolutely recommended!
Rental trend:
1BHK: 10-18k
2BHK: 16-22k
Viman Nagar
If you're looking for a one-stop solution, Viman Nagar is undoubtedly the best place to live in Pune currently. Interestingly, Viman Nagar's name is derived from the nearby airbase 'Dunkirk lines', which commemorates the historical significance of the name. Viman Nagar is one of the top localities in Pune. Save for the name, Viman Nagar is another version of Kalyani Nagar with its lavish flats and popular hangout places with shopping malls like Phoenix and Inorbit. With a steady rate of development and reasonable cost of living, Viman Nagar is an ideal option to consider for your stay.
Rental trend:
1BHK- 14-18k
2BHK: 20-25k
Kalyani Nagar/Koregaon Park
Kalyani Nagar and Koregaon Park are one of the largest residential areas with large communities and neighborhoods in Pune. The H.H.Aga Khan bridge across the Mula-Mutha river sparked the growth for development and accessibility with the other parts of town. Both the suburbs have been steadily growing as one of the best commercial hubs and boast top-notch infrastructure, numerous local attractions and pubs, minimal pollution and a premium cosmopolitan city experience. Unfortunately, because of its social status, both the suburbs are incredibly overpriced. Definitely avoid if you're not looking to spend a bomb on home rentals!
Rental trend:
1BHK: 18-20k
2BHK: 27-35k
Rental trend as per locality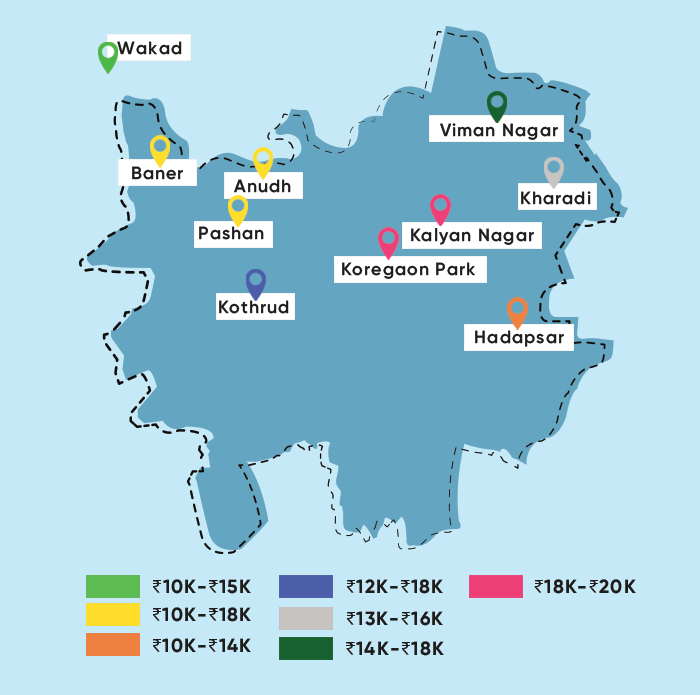 Should I rent a furnished or unfurnished house?
Let us take a quick guess. Yes to a furnished home and an obvious no to an unfurnished home. While it's easier and much more convenient to move into a fully furnished home, there's capital commitment and steep rental that would make a dent in your wallet. Pune might not be as crowded or expensive as Mumbai but it's still challenging to find a fully furnished flat that meets all your needs. And, that's the best part!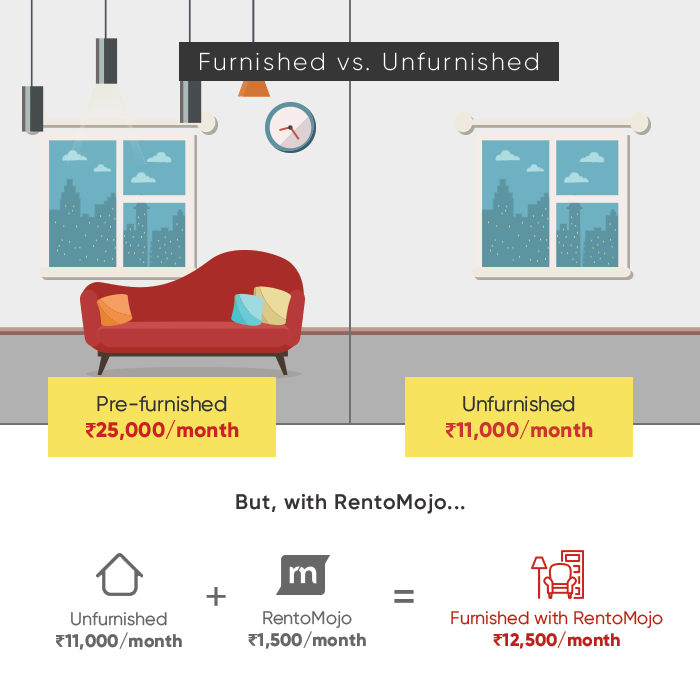 With RentoMojo's premium furniture and appliance collection, you don't have to worry about coming home to an empty house. Personalize your home, make it yours. Start here.
Before you move in…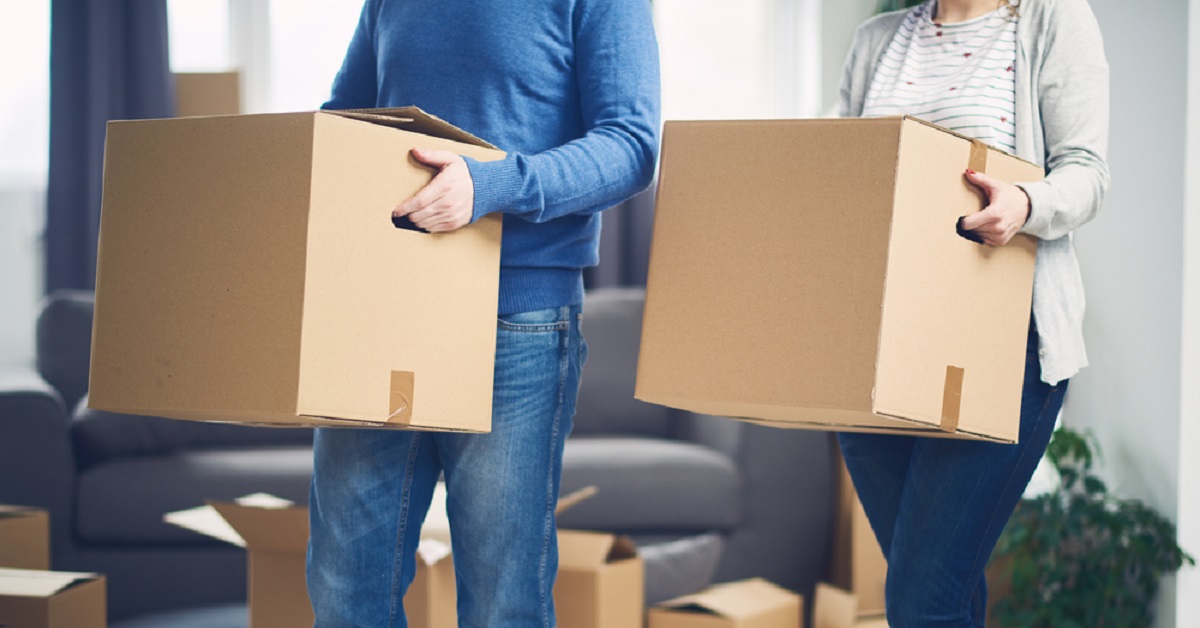 Now that you're close to moving in your dream home, it's time to do the last routine checks. Ready? Flat, set, go!
Inspect the flat
Before you pack your bags and load up the truck, make sure you inspect your new flat thoroughly. If you have a chance, do an apartment walkthrough with the landlord or owner to determine if any issues or niggles in the house need fixing. Yes, it includes that leaky tap too.
Rental agreement
Now that you're ready to sign the lease on your apartment, don't forget to pore through the document to avoid nasty surprises or hidden charges from your landlord. Make sure you go through the rent clause, incremental rent clause (if any), repair and damages, maintenance fees and other charges carefully. Ensure that you've scoured for specific details in the agreement. If not, feel free to ask the owner.
Society rules and guidelines
Every society has rules and conditions that are imposed to maintain a stress-free residential experience. Some societies might be conservative about having late-night parties, having pets, playing loud music or bringing friends over all the time. Ensure that all your doubts and queries are cleared before moving in, feel free to check for the resident's manual or simply ask your landlord.
The final act
It's finally time to finish up with the whole house-hunting process. Take a breather, kick back your feet and relax. If you haven't already found a place yet, it's important to stay positive and continue your search. There's a saying in Pune that goes as 'Pune tithe kay une' which translates to 'Is there anything that Pune doesn't have? You know the answer now.
Good luck with your house hunting!