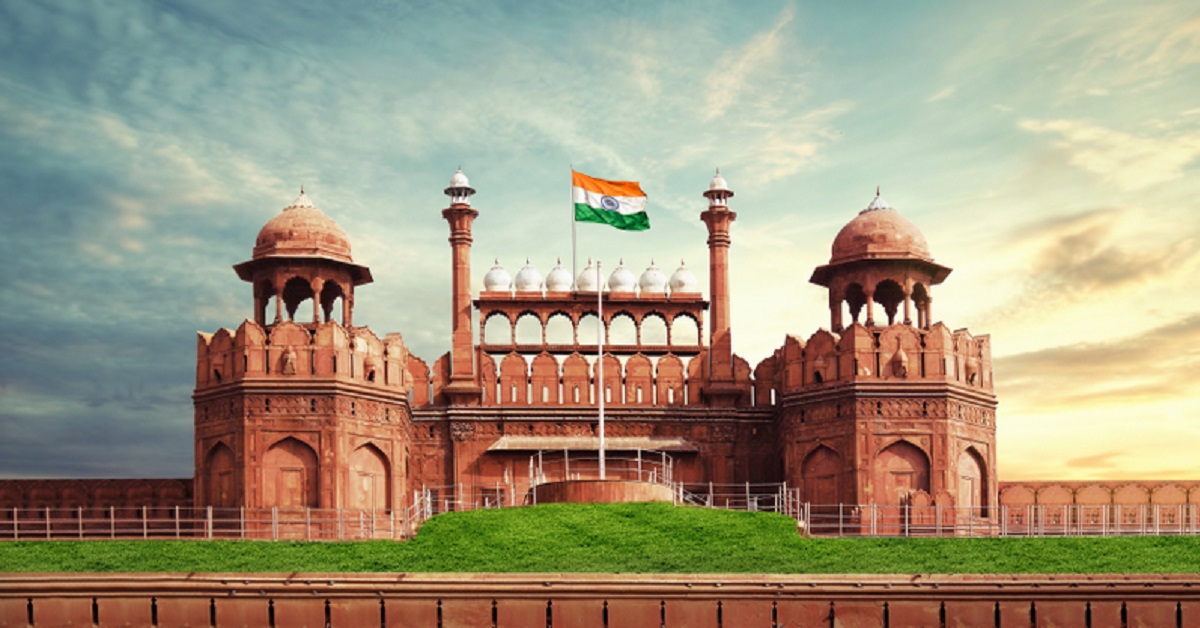 "Yeh sheher nahi, mehfil hai"
– Dilli 6
There might be a hundred quotes on the beauty of Delhi but none that come close to describing the vibrancy of the beautiful city. Delhi has always been India's premier city with a melting pot of different cultures and a montage of remarkable heritage. Being the capital of the nation, Delhi enjoys a blend of modern lifestyle and traditional old rustic feel of historical India. With 174 national and state-protected monuments, Delhi's cultural marvels are spread out all over the city. The influence of the Mughal, ancient India and the British can be seen in the diversity of architecture and other attractions of the city. 
Because of its proximity to the Thar Desert and the Himalayas, Delhi is also one of the places where you can't describe the weather without using either extreme. With the summers around, you'd be only lucky to catch a break from the dust storms and incessant heat. Come winters, don't forget to equip yourself with the warmest clothes as things tend to get a little nippy.
Upon the sprawling urban landscape of Delhi, the enigmatic city is always bustling with energy and smiles around the street. Abuzz with a crowd that's equally as mesmerizing as the chaos, the sight of the Jalebiwala carefully squiggling the little jalebis from the hot deep fryer is priceless. Besides being a gastronomical delight, Delhi has something for everyone.
Here's everything you'll ever need to make your relocation to Delhi easier.
What's the average cost of living in Delhi?
'Dilli hai dilwalon ka' has always resonated with every person who found a home in the city of the big-hearted. With a population of 11 million and a metropolitan population of 16.3 million, Delhi is the second-most populous city in India after Mumbai. The cost of living index in Delhi is 28.16, which is higher than Bengaluru. While it might be challenging to save money in a metropolitan city, it's always a good idea to keep tabs on how much you're spending so you can save some of that hard-earned money. Here's a brief rundown on how much money you'll need to live decently in Delhi.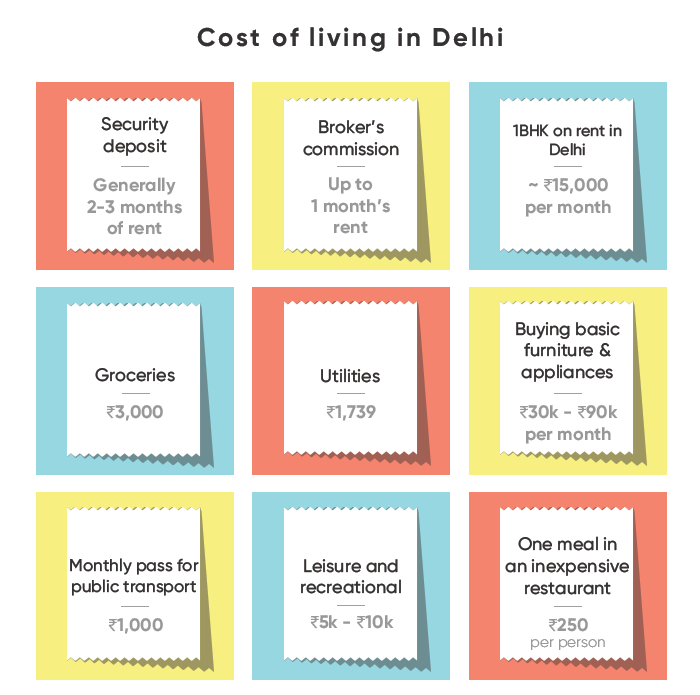 Where should I stay in Delhi?
With a right mix of old-school and the newly emerging modern Delhi, the capital is divided into two sections known as Old Delhi or Purani Dilli and New Delhi or Nayi Dilli. While Old Delhi is known for its local eateries, cultural monuments, and rich culture, New Delhi is a fresh contrast to the bustling narrow twisted streets of Old Delhi. 
If you aren't sure how to zero down on a place to stay, here are a few quick pointers.
Daily commute
Getting around in Delhi is relatively easy owing to the excellent metro infrastructure in the city. With the metro line expanding every year, Delhi's metro is fairly reasonable and has almost ended the struggles of using public transport on the road. If you still have to commute by road, you don't have to look too far. It's easy to catch a DTC bus, an auto rickshaw or cycle rickshaw at every corner of the city. You can also consider taxi apps to commute, although that might end up being the most expensive travel affair! 
Trivia: DTC (Delhi Transport Corporation) takes the cake for the world's largest fleet of CNG-powered buses in the world.
Area and locality
Relocating to a new place can be a daunting task, especially when you're not sure of which locality to choose. Unlike Pune, Delhi has numerous housing options as they are spread across all over the city. There's a high chance of pollution and lower air quality in most places in Delhi. It's advisable to get an air purifier for safety purposes.
Though the cost of living is high in Delhi due to its capital status and proximity to neighboring states, look for an apartment that is preferably in a gated community or a safe neighborhood that's closer to work. That'll help you cut down on commute time and expenses while ensuring you're safe. 
Cuisine and delicacies
If you're a foodie, Delhi will be a gastronomic dream come true! Delhi is literally a food platter on the street. With a variety of dishes ranging from paranthas at Chandni Chowk, chicken specialties of Purani Dilli, chaats, and spicy momos to chole bhature at Sitaram Diwan Chand, Delhi's street food is to die for. Go on, chomp away!
Convenience stores and amenities
Once you decide on a place to stay, don't forget to walk around and explore the area to get a feel of the neighborhood. It's always a good idea to scout for the nearby local grocery store or medical store for anything you may require later. Delhi also comes with the usual perks of a metropolitan city. Use apps like BigBasket, Dunzo, and Grofers to make the most of your new life in the city.
Leisure and recreational
Woke up with a thirst to explore? Lucky you're in Delhi. Delhi is one of the few cities to have preserved its historic roots. If you love history, you'll be mesmerized by the beauty of Red Fort, the busy streets of Chandni Chowk and the elegance of cultural monuments like Qutub Minar or Humayun's Tomb. There's a certain special charm of Sufi music that resonates with every Dilliwala. Don't forget to visit the Nizamuddin Dargah for a musical enchantment of your life.
Besides having many religious and cultural monuments spread over the city, Delhi is also home to tons of pubs, bars, bakeries and boutiques that have become a quintessential part of the city. If you're envious of your friend flaunting the latest styles, Delhi will not disappoint you. One of the best shopping experiences in Delhi can be found at Chatta Chowk, Palika Bazaar, Connaught Place, or Sarojini Nagar Market. If you fancy the nightlife, Delhi has some great places that will leave you wanting for more. Places like Agni, Kitty Su, The Library, The Living Room are a few places you can't miss in Delhi. You'll also find live music shows, open mics, lounge bars, theme-based bars among other crowd favorites. 
While Delhi has some great experiences to offer, we advise necessary caution when it comes to safety as the city was rated highly has a high crime rate. Avoid staying or spending too much time at MG Road, Faridabad Road, Paharganj, Badarpur border, Nelson Mandela Road, Nithari Village, and Najafgarh road for safety reasons.
How do I find places to rent in Delhi?
It's hard to find a place without paying an exorbitant amount, much less rent a house in Delhi without brokerage. Brokers might be the real-estate ninjas, but their charge is often more than the cost of living in Delhi per month!
While you might not find what you're looking for on the 3rd page of search results for 'flat to rent in Delhi,' we've put together a list of all the platforms and forums that will help you get a head-start. Get on, then!
Facebook groups and pages:
Apps & platforms:
NestAway

Housing.com

Commonfloor

Makaan

99acres

Magicbricks

Quikr Homes
What is the cost of renting a house in Delhi?
Every year, hundreds of people and expats relocate to Delhi for new opportunities and a promise of a better tomorrow. With a city so vast and a population of more than 18 million, Delhi is a treasure trove of excellent infrastructure and development.  
The cost of renting a house and the average cost of living in Delhi may differ from person-to-person, but the location of your house is something that will set the tone and lifestyle for your entire monthly budget. Because of safety concerns and travel expenses, it's advisable to stay closer to your workplace and avoid long periods of commute. 
Here's a list of places with approximate rental trends as per localities to give you an edge on your house-hunting!
As per district/train transit
North Delhi
Rental trend for 1BHK: 10-16k
Being the administrative district of Delhi, North Delhi enjoys a special status since the National Capital Territory is situated here. North Delhi has always been the center of attraction owing to prominent landmarks like Town Hall, Tis Hazari, and Mutiny Memorial. North Delhi also houses esteemed educational institutions like Delhi School of Economics and charming old markets like Sadar Bazaar and Khan Market. If you love shopping, there's something for every budget at Sadar Bazaar. Definitely recommended!
If you're looking to shift here, it's ideal to find a place in Kamla Nagar, Model Town, GTB Nagar or Rohini Sector 18/19. North Delhi also enjoys a residential status because of its connectivity quotient and other important factors.
Central Delhi
Rental trend for 1BHK: 8-13k
The heart of the city, Central Delhi is known for famous places like Delhi University campus, Jama Masjid, and Red Fort. Previously served as the capital of the Mughal Empire, Central Delhi has become one of the largest commercial and business centers in New Delhi. Central Delhi also houses the popular shopping hub, Connaught palace (CP), which is well-known for its unique shopping collection. 
If your workplace falls in the Central Delhi area, it's advisable to find a place near Chanakyapuri, Karol Bagh, Patel Nagar or Greater Kailash (Enclave 1). Finding a place here can be tricky because of safety concerns. Your best bet will be to opt for Uttam Nagar or Patel Nagar if you have to relocate here. 
South Delhi
Rental trend for 1BHK: 10-16k
The New Delhi Municipal Council (NDMC) might truly be the best offering when it comes to the quality of living in Delhi, but living in South Delhi comes a close second. South Delhi houses some of its finest nightclubs, restaurants, and tourist attractions. Known for its peaceful neighborhoods and easy accessibility, South Delhi is home to all major properties and housing options. This area is also famous for Qutub Minar, Humayun's Tomb, Lotus Temple, and Hauz Khas. 
If you're looking for a place to settle down in South Delhi, it's ideal to find a place around Malviya Nagar, Rohini (Sector 24) Lajpat Nagar, or Greater Kailash. Saket and Malviya Nagar due to easy accessibility to major city landmarks, shopping malls, and Gurgaon.
West Delhi
Rental trend for 1BHK: 10-14k
West Delhi is another option to consider if you're looking to rent a house in Delhi. Since this area falls under the administrative district of the National Capital Territory of Delhi, the security protocols are higher. While the cost of living is moderate, West Delhi enjoys excellent connectivity to major parts of Delhi. 
Basic amenities, convenience stores and plenty of restaurants make this an excellent option to consider. Since the cost of living is fairly reasonable in this area, you'll find every kind of housing option that suits your budget. Dwarka is a highly recommended area because of the spacious neighborhood with affordable housing options. You can consider apartments around Janakpuri, Rajouri Garden or Tagore Garden as per your requirements.
East Delhi
Rental trend for 1BHK: 9-13k
Situated on the banks of the river Yamuna, East Delhi is a big part of Delhi that has now come to become an indispensable part of Delhi for its commercial and administrative centers. East Delhi also houses one of the poshest residential areas, malls, and indulgent restaurants.
Preet Vihar is a popular area in East Delhi owing to its educational centers and popular hangout areas.  If you're looking to move to East Delhi, affordable renting options are available at Mayur Vihar, Preet Vihar, New Ashok Nagar or Laxmi Nagar. Mayur Nagar is a highly recommended area because of the family/bachelor friendly locality and connectivity to major parts of the city and Noida. 
Should I rent a furnished or unfurnished house?
You said furnished. Didn't you? We'd be with you too. Except think about this: Even if you get a furnished flat, you're already paying a higher premium compared to other unfurnished flats and a major capital commitment. Feeling the dent yet?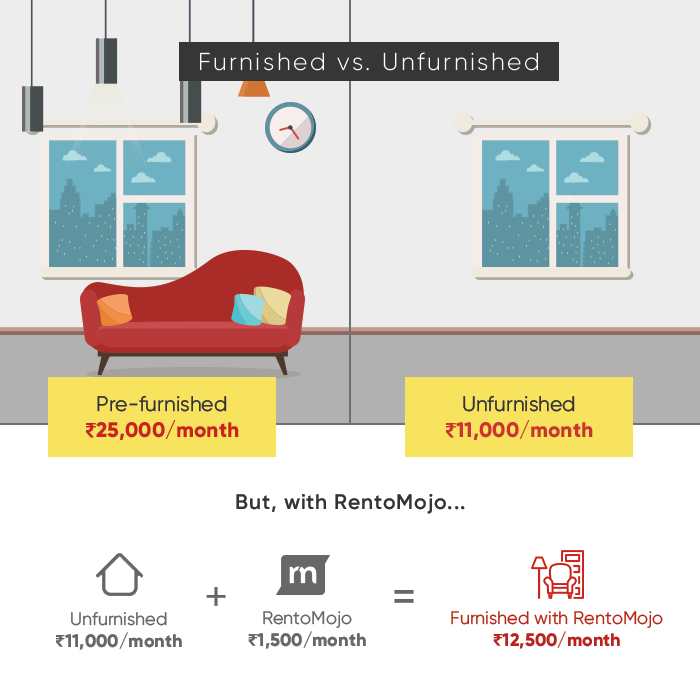 While it's challenging to find a fully furnished flat that fits your budget and meets all your needs, building a home is the way to go! With RentoMojo's premium furniture and appliance collection, you don't have to worry about coming home to an empty house. Personalize your home, make it yours. Start here. 
Before you move in…
Now that you're close to moving in your dream home, it's time to do the last routine checks. Ready? Flat, set, go!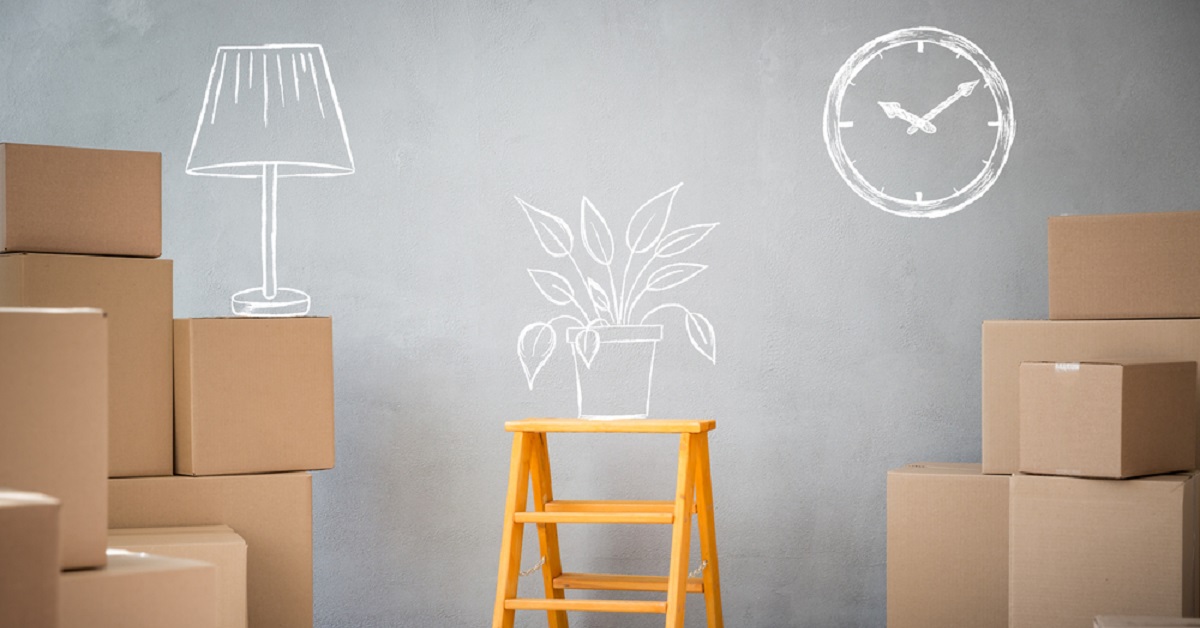 Inspect the flat
Before you pack your bags and load up the truck, make sure you inspect your new flat thoroughly. If you have a chance, do an apartment walkthrough with the landlord or owner to determine if any issues or niggles in the house need fixing. Yes, it includes that leaky tap too. 
Rental agreement
Now that you're ready to sign the lease on your apartment, don't forget to pore through the document to avoid nasty surprises or hidden charges from your landlord. Make sure you go through the rent clause, incremental rent clause (if any), repair and damages, maintenance fees and other charges carefully. Ensure that you've scoured for specific details in the agreement. If not, feel free to ask the owner.
Society rules and guidelines
Every society has rules and conditions that are imposed to maintain a stress-free residential experience. Some societies might be conservative about having late-night parties, having pets, playing loud music or bringing friends over all the time. Ensure that all your doubts and queries are cleared before moving in, feel free to check for the resident's manual or simply ask your landlord.
The final act
It's finally time to finish up with the whole house-hunting process. Take a breather, kick back your feet and relax. There's something for everyone at 'Dilwalon ki Dilli'. Happy house hunting!