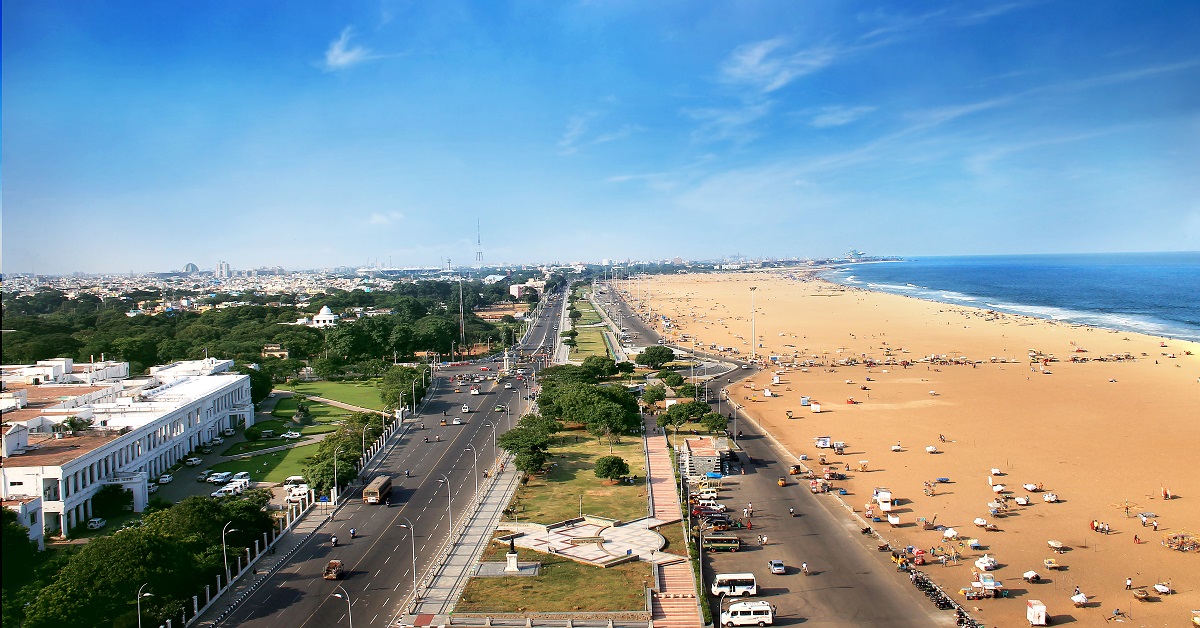 One of the oldest metropolitan cities in India, the 'Capital of the South' is regarded as one of the fastest developing cities in India. Chennai or Madras (as it was previously known) was formed when the British bought land in the province of Tondaimandalam and built the first British establishment in India with Fort St.George in the 17th century. Eventually, after the end of the British rule and significant developments in the city, the government renamed the city to Chennai to unite the diversity. 
Chennai is also called the 'Detroit of India' for its automotive prowess as the city accounts for almost 60% of the country's automotive exports. Chennai is also home to popular giants like Dell, Sony, Nokia, Alcatel, Foxconn and others that have set up their engineering bases and centers in the city. Chennai is also known as the 'medical hub of India' because of the booming growth in the medical tourism sector and has become a world-class specialized center for different medical treatments and procedures. 
Chennai is one of the largest cities in India to have the most diverse and unique culture. Also called the 'City of Temples,' Chennai has always been a doorway to rich culture and heritage of south India with temples like Parthasarathy temple, Kapaleeswarar temple, and Ashtalakshmi temple. Unlike other major cities, Chennai still retains its traditional charm of the old Madras with a balance of modernity and development. You'd be hard-pressed to not find a temple of remarkable sculpture and beauty on most streets of Chennai.
As a city, Chennai has a population of 9 million people, ranking it as India's fifth-largest city among other powerful cities like Mumbai, Delhi, Kolkata, and Bengaluru. If you haven't already heard of the infamous weather, be prepared to face the fact that the sun really LOVES Chennai! For most of the year, Chennai experiences extreme heat that often reaches a maximum of 38-42°C throughout the year. If you're expecting a sunny beach afternoon like Goa, you won't be disappointed but be prepared to pack some sunscreen! 
Now that you have a flavor of the vibrant South Indian city, here's everything you'll need to make your move-in easier in the majestic city of Chennai.
What's the average cost of living in Chennai?
While there might be a tremendous boom in job opportunities when it comes to the 'City of Great Distances,' the cost of living is always something to consider when relocating to a new city. The cost of living index in Chennai is 25.50, which is lower than Bengaluru by 9.55%. (Yay, more savings!)
In recent years, the city's urban agglomeration has grown immensely. It might be challenging to save money in an ever-expanding city like Chennai, but it's always a good idea to keep tabs on how much you can save. Here's a brief rundown on how much money you'll need to survive in Chennai.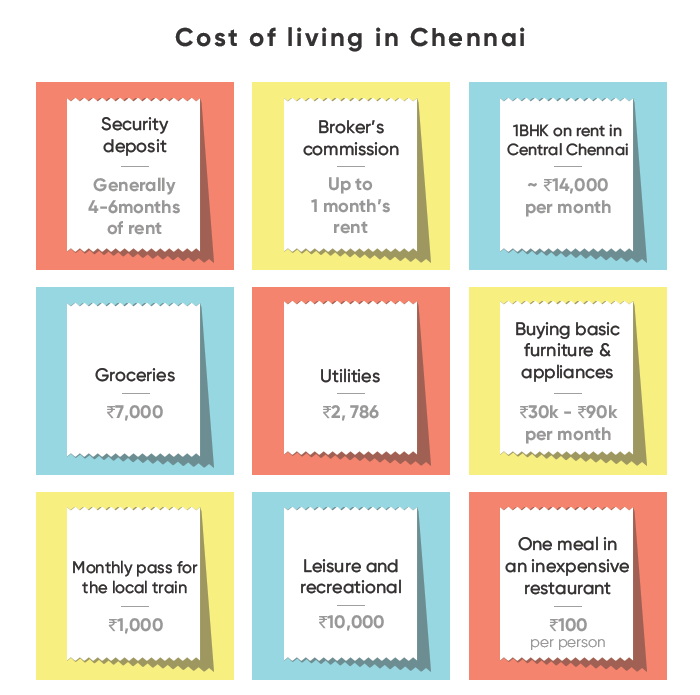 Where should I stay in Chennai?
Being one of the most populated cities in India, Chennai is the 31st largest metropolitan city in the world and the fourth most populous metropolitan city in India. The city is classified into three official regions for administration purposes, namely North Chennai, Central Chennai, and South Chennai. 
While most locals are Tamilians, there's still a diversity of minorities from other parts of the country that have settled here. It might be challenging to communicate with the locals as Tamil is the widely spoken language, but Telugu comes a close second. Knowing Tamil definitely helps, but most areas in the city also have an accompanying English version for signboards. If you're still worried about not knowing the native language, the locals in Chennai are incredibly polite, kind, warm-hearted and hospitable and will always extend their hand to help. The crime rate is also relatively low in the city compared to other major cities. With plenty of opportunities at the brink, it's important to narrow down a place to stay in Chennai that fits your needs. Here are some pointers to keep in mind while choosing the house of your dreams. 
Daily commute
By road
Chennai's local bus service, the Metropolitan Transport Corporation (MTC) is the primary and the most affordable mode of transportation in the city. Interestingly, Chennai also houses one of the largest bus stations in Asia with the Chennai Mofussil Bus Terminus (CMBT). Although Chennai enjoys rich connectivity of the bus network, it's hard to expect a seat during peak hours like most other cities. Owing to which, the bus experience can be often chaotic and exhausting, especially with the sweltering heat. 
Chennai is also situated on one of the major road networks including the Golden Quadrilateral, owing to easy accessibility to parts of the city as well as other states like Mumbai, Delhi, Chennai, and Kolkata. Also known as the 'Gateway to the South', Chennai ferries a lot of different crowd in the city. Getting around in the city might be challenging due to the long stretch between different areas. Therefore, it's advisable to find a place that's under 5 km from your workplace.
Suburban trains, metro, and taxis
Thankfully, Chennai is well-equipped with a railway system with the local line, suburban trains (Chennai Mass Rapid Transit System or MRTS) and Chennai Metro Rail that serve their purpose well. The local rail system operates in four major routes in the city with a regular frequency. Your next option is to consider autos, app-based taxi aggregators or Chennai's call-taxis. Be prepared though; the ubiquitous autowallahs will put your haggling and bargaining skills to the test!
Area and locality
Being a metropolitan city, Chennai has an enormous migrant population that comes from different states of the country. Compared to other major cities, Chennai is relatively better when it comes to home rentals and city population. From a functional 1BHK to lavish bungalows, Chennai has an option for every budget and need. Chennai also has dedicated residential areas that are less polluted, crowded and have better amenities than other cities. Look for a place that is ideally under 5 km of your workplace to cut down on commute time and expenses. 
Keep in mind, though, Chennai is still a bit conservative when it comes to home rentals. They might be reluctant to offer their homes on rent to bachelors, live-in couples, or single women in traditional neighborhoods. 
#MojoTip: Since Chennai faces extreme heat through the year, it's advisable to rent an AC or Air Cooler to combat the ever-scorching heat.
Convenience stores and amenities
Featured among the top 10 best cities to travel in the world, Chennai is undoubtedly one of the best cities to stay in India if you can live with the warmer temperatures. If you like the charm of beaches, a mix of old buildings and the bustling energy of modern India, Chennai won't disappoint. 
When it comes to convenience stores, amenities, or shopping hubs, Chennai is one of the best places for retail therapy! Pondy Bazaar, for instance, is one of Chennai's popular markets that offers everything from food to quick street shopping. You can also try Ranganathan Street and Usman Road for all your shopping needs. Chennai also boasts some good malls like the Express Avenue, Forum Mall, Spencer Plaza, Phoenix Market City, Ampa, and VR. If you're a movie buff, theatres in Chennai are an absolute delight. The government's policy on theatre pricing prohibits the theatres from charging an excess on the tickets. PVR IMAX? ₹120 only!
Cuisine and delicacies
If you thought Chennai's cuisine was all about the generalized south Indian food 'idli-dosa', Chennai's cuisine will leave you pleasantly surprised. Chennai's cuisine is actually tastefully local, vibrant and global at the same time! If you're a Biryani lover, be prepared to drool over biryani at Ya Mohideen (Pallavaram), Suku Bhai (Alandur) and Kalyan Bhavan (Kodambakkam). Don't miss out on the Nethili fry, Murukku Sandwich and the famous and absolutely amazing Sundal, that will just WIN your heart!
Leisure and recreation
If you feel like heading out, Chennai has much to offer when it comes to leisure and recreation. Chennai is home to some beautiful beaches like the Marina beach, which is also the second-longest urban beach in the world. Other famous beaches include Thiruvanmiyur beach, Besant Nagar/Elliot's beach, and Covelong beach. If you're feeling touristy, drop by to explore the rich cultural value of the famous Fort St.George, Arignar Anna Zoological Park/Vandalur Zoo, Government Museum at Egmore, Guindy National Park and Anna Centenary Library. If you're interested in the nightlife, Chennai has some great pubs and restaurants for all those weekend plans. Drop by at the Pasha-The Park, Gatsby 2000, Flying Bottles, 10 Downing Street, The Leather bar, Zara's, The West Minister, Flame or Le Club for a night you won't forget! 
How do I find places to rent in Chennai?
Like it wasn't already hard to find a place without paying an excessive amount, it's a challenge to rent a house in Chennai without brokerage. Brokers might be the real-estate ninjas at finding steller houses at great locations, but often the brokerage ends up being more than the cost of living in Chennai per month! 
While you might not find what you're looking for when you search for 'flat to rent in Chennai,' we've put together a list of all the platforms and forums that will help you get a head-start.
Facebook groups and pages:
Apps & platforms:
NestAway

Housing.com

Commonfloor

Makaan

99acres

Magicbricks

Quikr Homes
What is the cost of renting a house in Chennai?
The average cost of living in Chennai may differ from person-to-person, but the location of your house is something that will set the tone and lifestyle for your entire monthly budget. Most localities in Chennai are modern, people-friendly and few of them still retain the traditional charm of Old Madras. Thankfully, the average cost of renting a house in Chennai is lower than in most cities, which should help you save more for other expenses. Since commuting to work during peak hours can be chaotic, it's a good idea to find a house that's under 5 km to cut down on expenses, time and effort. 
Here's a quick rundown of places to stay in Chennai based on the area and rental trends.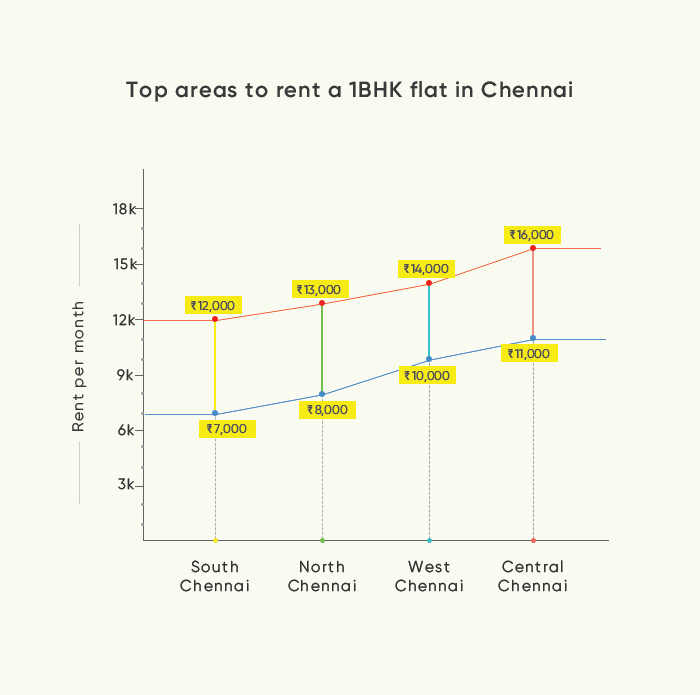 South Chennai
Rental trend for 1BHK: 7-12k
A relatively new neighborhood, South Chennai houses most professionals because of the proximity to the nearby IT parks, shopping malls, and theatres. South Chennai is also more laid-back compared to other parts of the city. Areas like Mylapore and Triplicane are more religion-centered while Adyar, Besant Nagar, Anna Nagar, T. Nagar are the posher localities with malls, retail and commercial hubs in the south. If you're looking to rent a house in South Chennai, look for something in OMR, Sholinganallur, ECR, or Medavakkam for affordable home rental options. 
Central Chennai
Rental trend for 1BHK: 11-16k
If your work involves dealing with business or shopping areas with retail, look no further than T. Nagar, Royapettah or Kodambakkam. Although Central Chennai is one of the best neighborhoods to live in Chennai, you might want to skip Nungambakkam for its pricey status quo. Kodambakkam comes highly recommended for its well-established neighborhood that's home to the Tamil film industry. It's also well-connected to Arcot Road and Inner Ring Road, which connects other major parts of the city. Another plus point to consider is that Kodambakkam is one of the well-developed neighborhoods to have a proper stormwater drainage system to tackle floods.
North Chennai 
Rental trend for 1BHK: 8-13k
North Chennai is mostly built around places of commercial business and trading. The only catch is finding a good house that's spacious and fits your needs due to the narrow streets and space constraints in the area. If you have to still consider North Chennai for its proximity to your workplace, you should consider finding a place in Perambur, Ayanavaram or Puliyanthope.
West Chennai
Rental trend for 1BHK: 10-14k
West Chennai accounts for most of the automotive corridor and manufacturing sector. Look for a place in Koyambedu, Porur, Vadapalani or Virugambakkam for affordable rental options. Koyambedu is the transport hub of Chennai and has many markets nearby. It's also 15 mins away from Virugambakkam, Maduravoyal, and Vanagaram, in case your workplace is in the vicinity. You can also consider finding a house in the stretch from Guindy to Porur for its presence of small IT parks in the area.
Should I rent a furnished or unfurnished house?
Would you rather have a furnished flat with lackluster furniture with a steep rental or an unfurnished flat with low rental and the possibility to build a home of your dreams?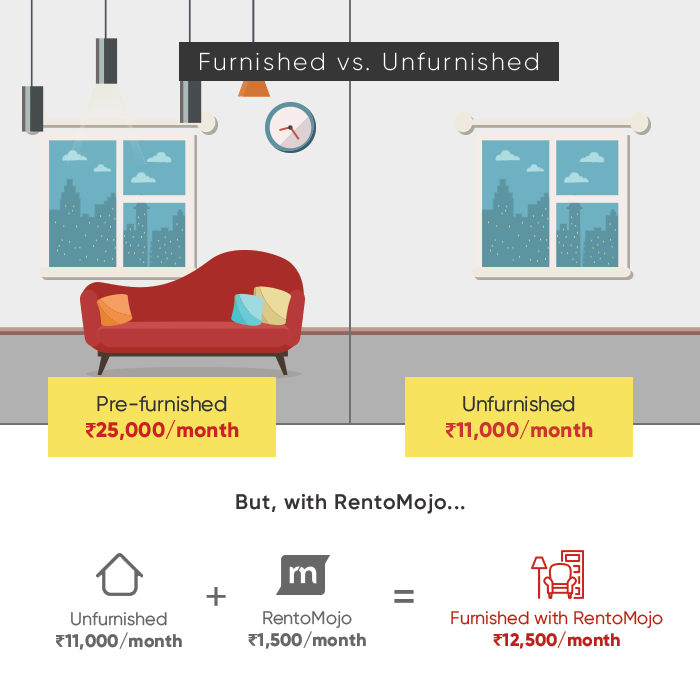 While it's challenging to find a fully furnished flat that fits your budget and meets all your needs, the last thing you need is a bigger dent in your wallet. With RentoMojo's premium furniture and appliance collection, you don't have to worry about coming home to an empty house. It's always a good idea to make a house that matches your taste and style. Personalize your home, make it yours. Start here.
Before you move in…
Now that you're close to moving in your dream home, it's time to do the last routine checks. Ready? Flat, set, go!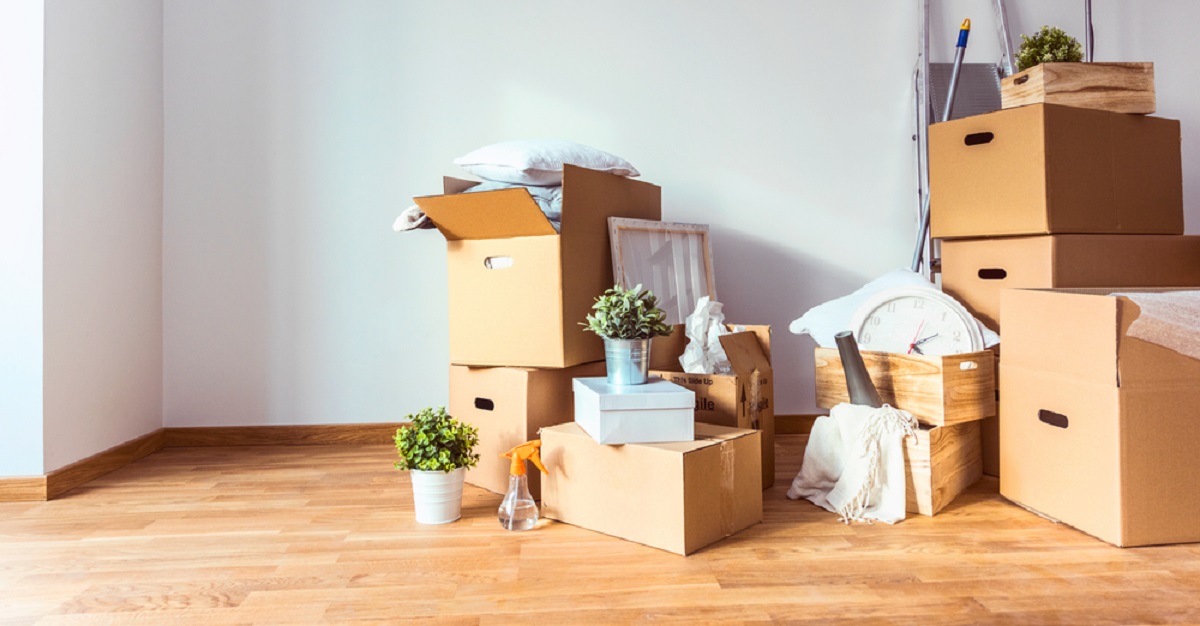 Inspect the flat
Before you pack your bags and load up the trucks, make sure you inspect your new flat thoroughly. If you have a chance, opt for an apartment walkthrough with the landlord or owner to determine if any issues or niggles in the house need fixing. Yes, it includes that leaky tap too. 
Rental agreement
Now that you're ready to sign the lease on your apartment, don't forget to pore through the document to avoid nasty surprises or hidden charges from your landlord. Make sure you go through the rent clause, incremental rent clause (if any), repair and damages, maintenance fees and other charges carefully. Ensure that you've scoured for specific details in the agreement. If not, feel free to ask the owner.
Society rules and guidelines
Every society has rules and conditions that are imposed to maintain a stress-free residential experience. Some societies might be conservative about having late-night parties, having pets, playing loud music or bringing friends over all the time. Ensure that all your doubts and queries are cleared before moving in, feel free to check for the resident's manual or simply ask your landlord.
The final act
It's finally time to finish up with the whole house-hunting process. Take a breather, kick back your feet and relax. It's important to stay positive and carry on with your house-hunting. There's a famous Tamil phrase "யாதும் ஊரே யாவரும் கேளிர்" which roughly translates to "To us, all the towns are one and all men are our kin."
Chennai accommodates everyone with an open heart with a variety of cultures and people living here—all together in harmony. Good luck!