From lip-smacking street food and authentic Korean cuisine to exquisite sushi, the food scene in Chennai has gone global. In case you're one of those who believe that Chennai's cuisine doesn't stretch beyond its 'idli-dosa' stereotypes, be prepared to be pleasantly surprised. Here's the Chennai food guide that puts the spotlight on dishes that the city can really call its own even though some of them might not have necessarily originated here:
1. Filter Coffee:
Anyone who has met one of Chennai's filter coffee connoisseurs would know how particular they are about every ingredient that goes into the preparation of the brew. The filter coffee is what fuels the city. There are early risers who grab their tumbler before sunrise at Sarvana Bhavan and coffee lovers who prefer their strong evening filter coffees from Mami Mess and Karpagamabal Mess. Almost all corners of the city boast high-quality coffee.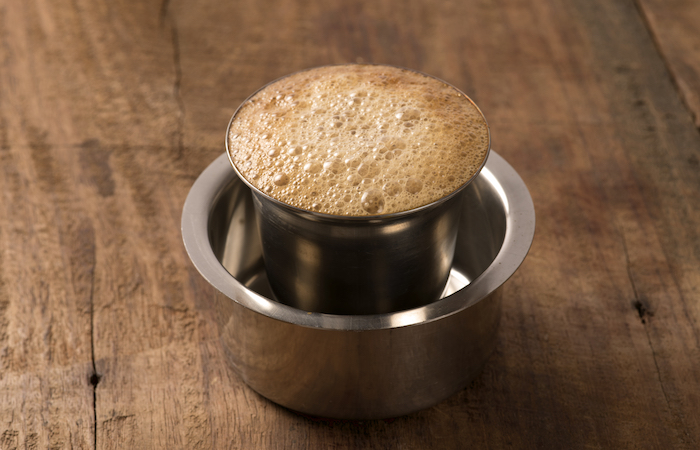 2. Mulligatawny Soup:
This authentic soup combines the traditional ingredients like grated coconuts along with ingredients like apples, carrots and chicken, and is usually served with rice. You can find an authentic version at clubs like Gymkhana and Madras Club.
3. Sundal:
One of the world's longest beaches, the Marina Beach, is also a part of Chennai's identity. Interestingly, it also happens to be the best place to indulge in some delicious Sundal. It is boiled chickpeas tossed with mustard seeds, grated coconut, raw mango, and curry leaves. Being a traditional snack and one of the best veg street food in Chennai, Sundal is served during the ten days of Dushherra and is equally popular as a bar snack.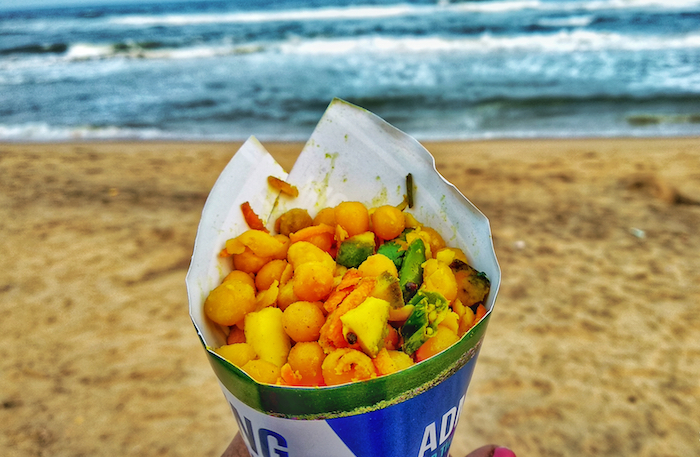 4. Nethili Fry:
With the fishermen community being one of Chennai's earliest inhabitants, the city is rich in seafood. The fresh catch of the day becomes easily available at homes as well as all kinds of eateries. Nethi fry is one of the best non-veg street food in Chennai when you are looking for delectable seafood dishes. It's a crunchy and scrumptious dish consisting of fried fish tossed in a spicy masala. 
5. Mysore Pak:
It is the one thing most people will ask you to carry back from Chennai, considering Chennai sells more Mysore Pak than Mysore. This melt-in-your-mouth sweet is crafted with just three ingredients- sugar, ghee and Bengal gram. There are two types of Mysore Pak available in Chennai – the softer 'Mysurpa' version made popular by Sri Krishna Sweets and the slightly coarse yet crumbly Mysore Pak that tastes best at Grand Sweets.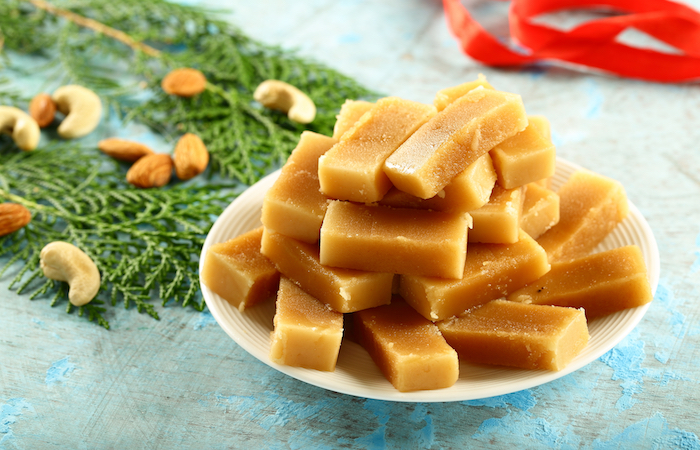 6. Murukku Sandwich:
Home to Chennai's Marwari community for decades, the Sowcarpet area has developed its own food culture. It is both, the best neighbourhood in the city for chaats, and home to the most innovative street-food dishes. The Murukku Sandwich is essentially a Bombay-style sandwich compressed into a bite-sized dish. The bread slices make way for murukkus (chaklis) and it is deliciously crunchy.
7. Full Meals:
No visit to Chennai is complete without rolling up your sleeves for the larger than life banana-leaf meal. There's the all-vegetarian version of the meal that one could try at restaurants at National Lodge or Dakshin. The meat lovers could head to one of the city's military hotels or restaurants like Junior Kupanna.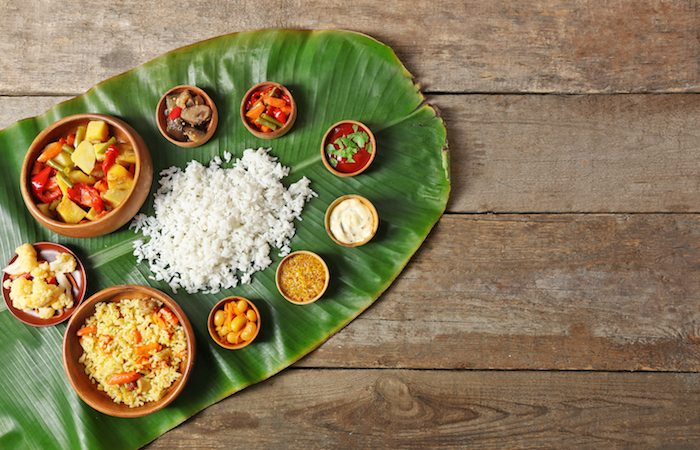 8. Atho:
Chennai has a strong Burmese connect, which is most evident in North Chennai where quite a few restaurants serve exquisitely delicious Burmese street food. This includes the Atho – fried noodles tossed with cabbage, onion, and tamarind juice. This tops the list of must-try Chennai street dishes.
9. Boli:
Once hailed as a poor man's dish, Boli is now among the most delicious delicacies all over Chennai. The aroma of the hot Boli will not fail to draw you to the nearby stall. It is a sweet refined flour paratha stuffed with toor daal, jaggery, cardamom, nuts and raisins. It is a must-have for all those with a sweet tooth.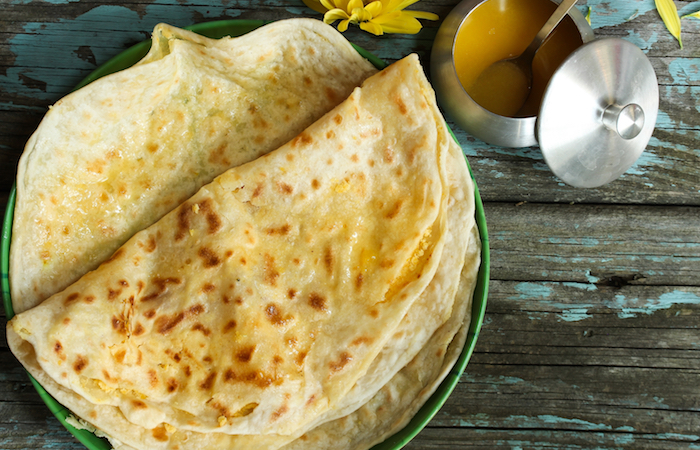 10. Mysore Masala Dosa:
Udupi restaurateurs like Dasaprakash and Woodlands were the ones who probably brought this dish to Chennai. You can try their ghee-soaked, crispy version in restaurants such as Krishna or Mathsya. Some restaurants also serve the dish with their secret trademarked paste.
If you aren't from Chennai, don't book your flight tickets yet! You can easily cook up these amazing local Chennai dishes at home on an induction cooktop.