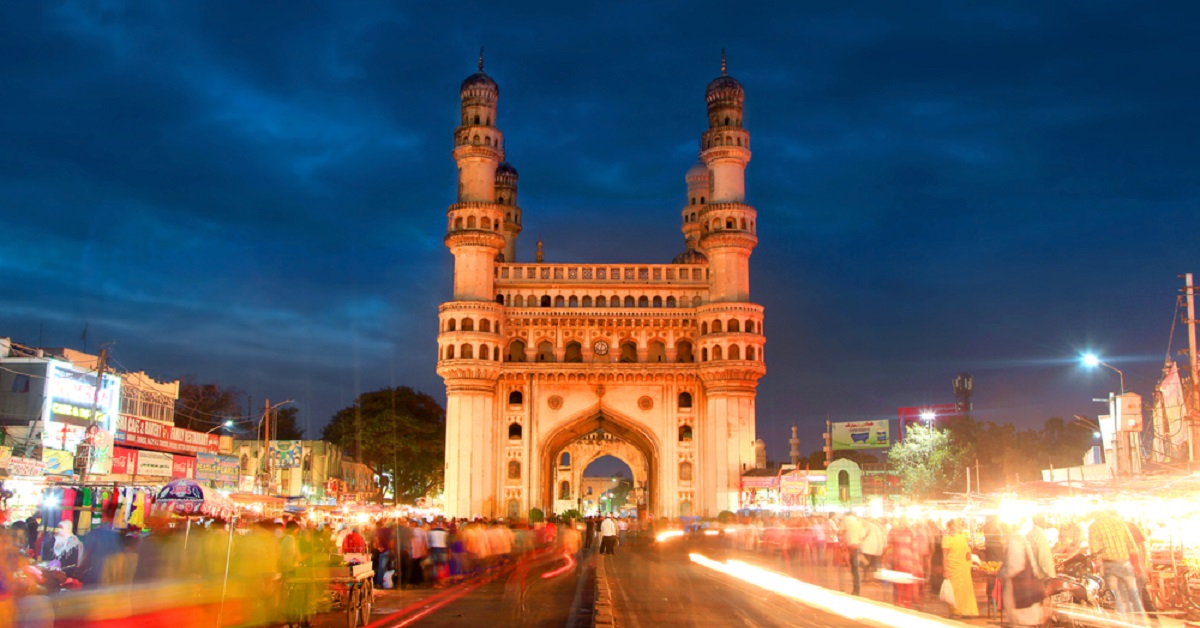 With a history spanning over 400 years, Hyderabad is truly the city of royals. Situated along the banks of river Musi in the north-western part of Andhra Pradesh, The City of Nawabs quickly rose to the status of one of the fastest growing modern cities in India. Known for its steady growth and development, the city has established its status as an IT hub and cultural potpourri.  
Endowed with rich traditions and culture from the past, Hyderabad's amalgamation of various ethnic groups and embracement of modernity has ensured the city to become a top cosmopolitan city in the country. The city is aesthetically decorated by the beauty of the old city and historical architecture at every corner of the city. From the majestic Golconda Fort to the marvelous Salar Jung Museum, this city has a lot to offer when it comes to attractions. The same can be seen in the influence of literature, art, music, and handicrafts. 
While Telugu and Hyderabadi Hindi/Urdu are primary languages, English and Hindi are widely spoken by the locals. The locals are extremely warm and friendly and will always lend a helping hand. Like most Indian cities, The City of Nawabs generally enjoys a tropical climate that is fairly warm throughout the year, often reaching as high as 45°C. Now featured as a Tricity, Hyderabad is India's fourth most populous city and sixth most populous urban agglomeration among other major cities of the country. 
Whether you're from India or some other part of the world, there's sure sustenance and temptation of the irresistible Biryani of Hyderabad. Besides being the Biryani heaven, Hyderabad goes by different monikers like The City of Nizams, City of Pearls and HITECH city. Interestingly, Hyderabad was nicknamed as 'City of Pearls' for its prowess in manufacturing and trading diamonds and pearls. Hyderabad is also the Pharma capital of India, contributing a whopping 40% of the world's total drug production. 
While the city's prominent location makes it a favorable place to relocate, it's definitely easier said than done. Here's everything you'll need to make your move-in easier to The City of Nawabs.
What's the average cost of living in Hyderabad?
While the Tricity quickly morphed into a cosmopolitan tech-savvy town, the cost of living is always something to consider when relocating to a new city. Thankfully, the cost of living in Hyderabad is lower compared to other major cities of India. The cost of living index in Hyderabad was recorded at 25. 25, which is lower than Bengaluru by an astonishing 10.13%. 
Here's a brief rundown on how much money you'll need to survive in Hyderabad.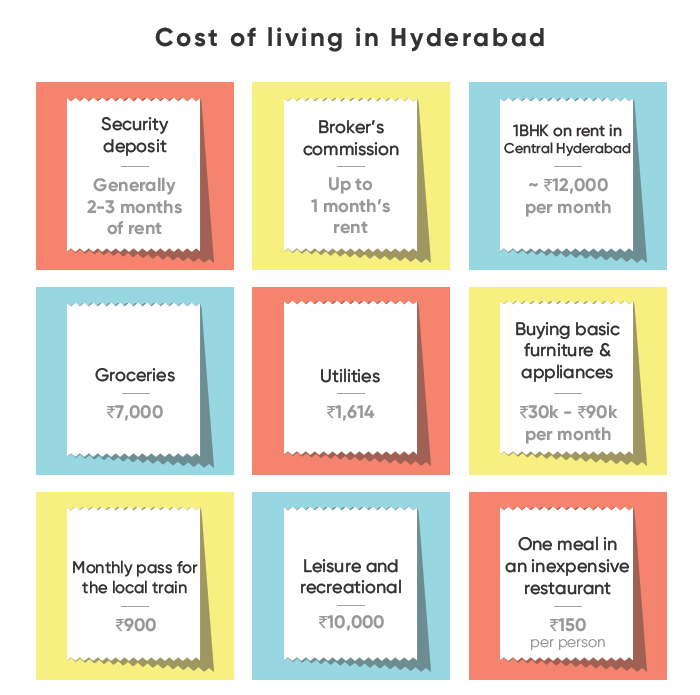 Where should I stay in Hyderabad?
Fondly called as the city of happiness or the city of a thousand faces, Hyderabad is home to people from all over the country. Because of its strategic location, Hyderabad essentially bridges the north and south culturally. The city is classified into various regions for administration purposes, namely the Central zone, South zone, North zone, West zone, and East zone. The historic city on the southern side of the Musi River forms the 'Old City', while the 'New City' constitutes the urbanized area on the northern banks. 
Here are some pointers to keep in mind while choosing the house of your dreams. 
Daily commute
Hyderabad enjoys a well-connected road network that branches out to major parts of the city as well as national highways to the adjoining states. Hyderabad is also famous for the lengthiest flyover in India with the P V Narasimha Rao Elevated Expressway Corridor that stretches up to a length of around 11.6 km. 
Hyderabad is one of the top cities to feature an organized and affordable public transport system with a well-equipped versatile fleet of buses, a reasonably-priced autorickshaw system, and well-connected suburban train (MMTS) and metro system. The MMTS (Multi-Modal Transport System) is one of the fastest suburban rail systems in Hyderabad and connects significant parts of the city like Secunderabad, Lingampally, and Falaknuma. Be warned though, they're fast but always crowded. You can also consider the Hyderabad Metro Rail, which is the world's largest public-private partnership in the metro sector covering about 56.5 km. Your next option is to consider autos, app-based taxi aggregators or share cabs.
Hyderabad's strides in infrastructure and road development including new flyovers in the city have made it easier to commute in the city. While getting around the city might be chaotic owing to the traffic congestion, it's advisable to find a house on rent that's within 5 km of your workplace. 
Area and locality
Being a metropolitan city, Hyderabad has an enormous migrant population that comes from different parts of the country. Compared to other major cities like Mumbai, Delhi, Gurgaon or Pune, Hyderabad is relatively cheaper and less crowded. From a functional 1BHK to lavish bungalows, Hyderabad has an option for every budget and need. 
Among other major cities in India, Hyderabad has one of the lowest crime rates, ranking at the 16th position in India. Hyderabad also retained its first position in the quality of living index for the fourth year by Mercer Quality of Rating Index. But keep in mind, Hyderabad like other metro cities also faces a water shortage, depending on the location of your flat. Nonetheless, Hyderabad is a great place to stay. 
#MojoTIP: Since Hyderabad faces severe tropical heat during summers, it's advisable to get an AC or Air Cooler to combat the ever-scorching heat.

Convenience stores and amenities
Besides being well-known for its trade in exquisite jewelry and pearls, Hyderabad also has one of the most active and top street-shopping places in the country. For those who love to shop-till-you-drop, Hyderabad offers one of the most exciting street-shopping places that houses everything from daily essentials to luxury items. If you're interested, don't forget to drop by the Koti Sultan Bazar, Ameerpet, Begum Bazar Namapally or Shilparamam. Rest assured, you'll leave home with plenty of bags! 
If you're still interested in conventional malls and supermarkets, Hyderabad's development in shopping infrastructure should more than suffice. Malls like Inorbit, Central, GVK One, Sarath City Capital, and Forum Sujana should help with the whole shopping service.
Cuisine and delicacies
Passed on from the legacy of The Nizams, Hyderabad's food cuisine is the tasteful culmination of culture and tradition of 400 years. Hyderabad is truly a foodie's delight, from the royal Biryani to Pattak ka Gosht. If you're already thinking biryani, you can't miss places like Bawarchi (RTC X Roads), Hotel Shadab (Charminar) and Paradise (Secunderabad/Madhapur). 
If you haven't already heard much about Hyderabad's heavenly biryani, places like Charminar, Secunderabad, Tolichowki and Gachibowli are famous for popular food dishes like Haleem, Keema Samosa, Lukhmi, Khatti Dal, Hyderabadi Khichdi, and Khubani Ka Meeta. Hyderabad also has a popular Irani café culture in the city that's more than just a daily beverage. Introduced by the Persian settlers, the popular and iconic Irani chai came to be a popular favorite over time. There's Khade Chammach ki Chai and Burkhe Wali Chai, which are the crown beverages of the city. Pair them with some Karachi Bakery's Osmania biscuits and you're all set for a perfect day.
Leisure and recreation
Hyderabad has something for everyone when it comes to leisure and recreation, especially since the city is filled with things to do and attractions to see. To start, Hyderabad is home to the world-famous Ramoji Film City that attracts 1.5 million tourists every year. The film city was certified by the Guinness World Records as the world's largest Film Studio complex. If you're ready to take a trip down the history books, the elegant and blossoming city also boasts of various historical monuments and attractions like the Charminar, Salar Jung Museum, Chowmahalla Palace, Hussain Sagar Lake, Birla Mandir, and Golconda Fort to name a few. Hyderabad also has plenty of theatres and multiplexes and also holds the record for the world's largest 3D IMAX screen at Prasad IMAX. You can also create your own home theatre. Here's how.

Banjara Hills, Jubilee Hills, Begumpet, and Somajigud are places to be in Hyderabad if you're looking for good music and entertainment. They're home to popular pubs and restaurants like 10 Downing Street (Begumpet), Heart Cup Coffee (Jubilee Hills), Vertigo (Banjara Hills), and Fifth Element (Somajiguda) to name a few. Hyderabad's nightlife is on par with other major cities like Bengaluru and Mumbai. Hyderabad has a plethora of options when it comes to nightclubs, live music, gigs, theatres and more.
How do I find places to rent in Hyderabad?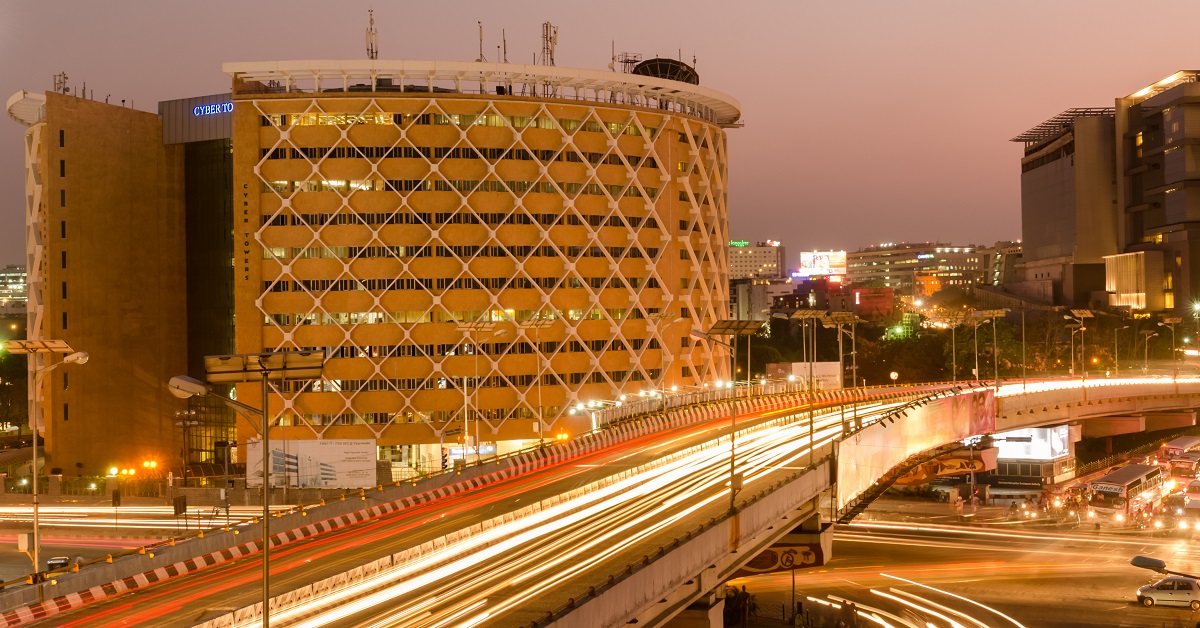 If it wasn't already hard to find a place without paying an excessive amount, it's a challenge to rent a house in Hyderabad without brokerage. Brokers might be the real-estate ninjas at finding steller houses at ideal locations, but often the brokerage ends up being more than the cost of living in Hyderabad per month! 
While you might not find what you're looking for when you search for 'flat to rent in Hyderabad,' we've put together a list of all the platforms and forums that will help you get a head-start.
Facebook groups and pages:
Apps & platforms:
NestAway

Housing.com

Commonfloor

Makaan

99acres

Magicbricks

Quikr Homes
What is the cost of renting a house in Hyderabad?
Home rentals in Hyderabad are relatively cheaper compared to other IT hubs like Bangalore and Pune. The average cost of living in Hyderabad may differ from person-to-person, but the location of your house is something that will set the tone and lifestyle for your entire monthly budget. While most IT companies are spread across a radius of 10 km—stretching across HITECH City, Gachibowli and Nanakramguda, most places are accessible in a commute time of 30-45 minutes. It's advisable to find a house that's under 5 km to cut down on commute time and effort.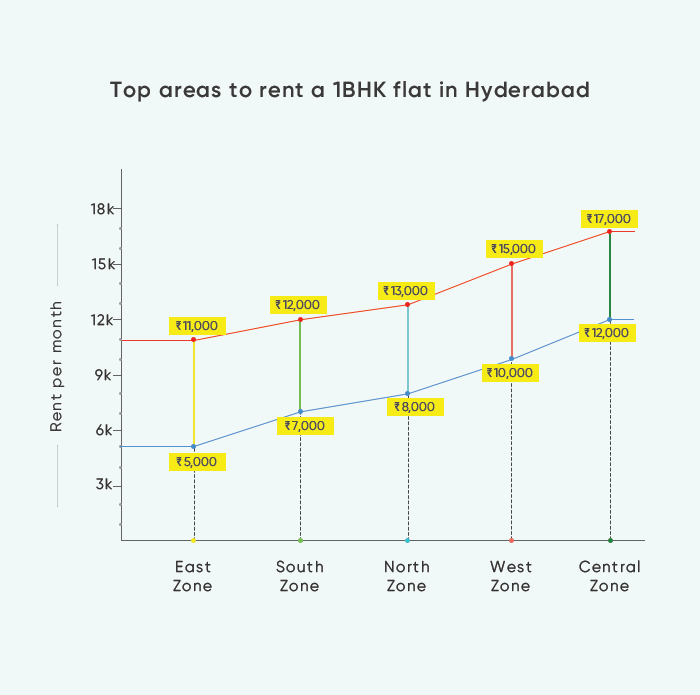 Central Zone
Rental trend for 1BHK: 12-17k
Central Hyderabad is the main part of the city, housing most of the government and administrative offices. This zone includes popular places like King Kothi, Abids, Banjara Hills, Jubilee Hills, Ameerpet, and Mehdipatnam. The zone is also one of the upscale neighborhoods in the city and houses the best restaurants and pubs. Avoid places like Hill Fort Road, Birla Mandir, Basheerbagh, Banjara Hills, and Jubilee Hills since they might come with an expensive price tag. But if you still have to consider, Mehdipatnam, Vijay Nagar Colony, Red Hills, and Old MLA Quarters would be your best bet to find reasonable home rentals.
South Zone
Rental trend for 1BHK: 7-12k
Also called Purana Shahar or the Old City, South Hyderabad houses one of the famous historical monuments like the Charminar. While there's a certain old city charm of the bazaars and traditional city vibes, this zone also houses the major Hyderabad International Airport. While some parts of the city are slightly underdeveloped, this area has received much growth lately due to its accessibility to the airport and PVNR expressway. If you're looking to set up a home here, Mehdipatnam, Attapur, Shamshabad, and Budvel would be good options to consider.
North Zone
Rental trend for 1BHK: 8-13k
The north zone of Hyderabad houses popular areas like Begumpet, Kompally, and is known for the twin sibling city, Secunderabad. Secunderabad is a good place to consider if your workplace is located here due to its good transport connectivity to other parts of the city via local buses, MMTS, and the metro line. The North zone is also far more organized and cleaner compared to the south zone. While places like Kompally are famous for their posh localities, you can still find affordable options around Bowenpally, Trimulgherry, Malkajgiri, and Alwal.
West Zone 
Rental trend for 1BHK: 10-15k
Home to the IT industry, the western zone is the newest entrant of Hyderabad's strategy of rapid development and expansion. This place houses popular localities like Gachibowli, Raidurgam, Tolichowki, Madhapur, Film Nagar, Nanakramguda, Golkonda, and the famous, HITECH city. The area encircling Hyderabad and Secunderabad can be considered as Cyberabad. After the IT boom on the outskirts of the city, the government named the area as Cyberabad with a local commissionerate for better control and accessibility. While this part of the city features a higher price tag for the standard of living and rentals, places like Madhapur, Kothaguda, Shaikpet, and Khajaguda would be great options to consider if you want to find an affordable apartment. 
East Zone
Rental trend for 1BHK: 5-11k
While the East is widely known for its educational institutions, this area is one of the fastest developing parts of Hyderabad. This area is only well-connected by the metro and has plenty of convenience stores. Like most places in metro cities, this area also faces water scarcity issues. If you're looking to find a decent home in the east zone, your best bet would be to consider Alkapuri Colony, Kothapet, Habsiguda, and Uppal.
Should I rent a furnished or unfurnished house?
Would you rather have a furnished flat with lackluster furniture with a steep rental or an unfurnished flat with low rental and the possibility to build a home of your dreams?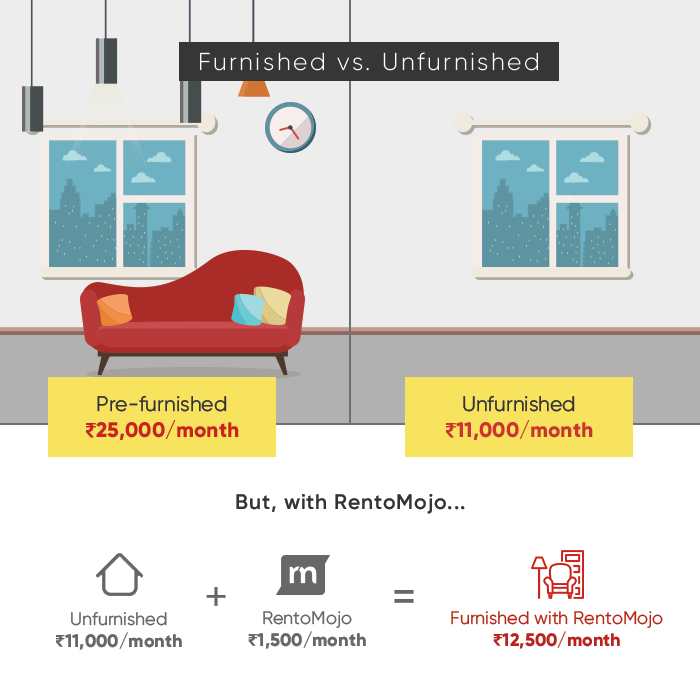 While it's challenging to find a fully furnished flat that fits your budget and meets all your needs, the last thing you need is a bigger dent on your wallet. With RentoMojo's premium furniture and appliance collection, you don't have to worry about coming home to an empty house. It's always a good idea to make a house that matches your taste and style. Personalize your home, make it yours. Start here.

Before you move in…
Now that you're close to moving in your dream home, it's time to do the last routine checks. Ready? Flat, set, go!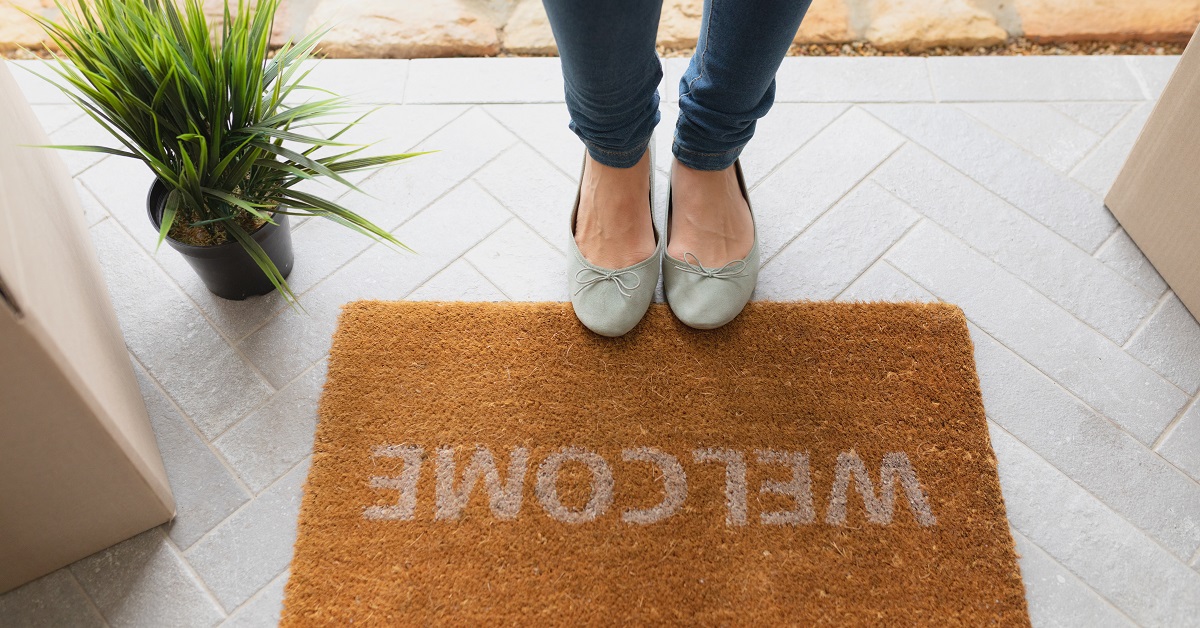 Inspect the flat
Before you pack your bags and load up the trucks, make sure you inspect your new flat thoroughly. If you have a chance, opt for an apartment walkthrough with the landlord or owner to determine if any issues or niggles in the house need fixing. Yes, it includes that leaky tap too. 
Rental agreement
Now that you're ready to sign the lease on your apartment, don't forget to pore through the document to avoid nasty surprises or hidden charges from your landlord. Make sure you go through the rent clause, incremental rent clause (if any), repair and damages, maintenance fees and other charges carefully. Ensure that you've scoured for specific details in the agreement. If not, feel free to ask the owner.
Society rules and guidelines
Every society has rules and conditions that are imposed to maintain a stress-free residential experience. Some societies might be conservative about having late-night parties, having pets, playing loud music or bringing friends over all the time. Ensure that all your doubts and queries are cleared before moving in, feel free to check for the resident's manual or simply ask your landlord.
`The final act
It's finally time to finish up with the whole house-hunting process. Take a breather, kick back your feet and relax. It's important to stay positive and carry on with your house-hunting. Hyderabad is one of the most secular and top cities to live in India and it'll always welcome you with open arms. Besides, who can say no to a piping hot cup of Irani chai and a plate of irresistible Biryani?