The bohemian style has recently become a global trend. The boho and hippie designs are literally everywhere these days—on Instagram feeds, Facebook posts and Pinterest as well. People all around the world are not only opting for clothing based on the boho style but are also looking for ideas to style their home in a unique boho theme as well. Styling your living room with boho elements will give the space a cosy and effortless vibe.
However, as effortless and care-free as the designs may seem, a lot of thought needs to go into the selection and grouping of fabrics, placement of greens, and the furnishings adorning the furniture.
The unpredictable, unusual, and bright mixtures are what make the boho theme so popular. It gives your home a unique look. If you want to make your living space an extension of your unique personality, the boho-chic design is the way to go.
Don't know where to start? We are here to give you some tips that will make the process of styling your living room, an easy one.
1. Pick your colours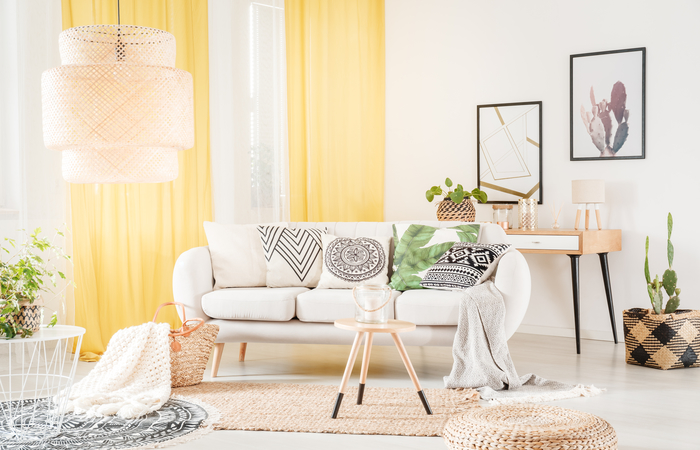 The colour you choose determines the mood of your living room. Start by choosing three colours for your palette. You can add more colours, but these three will become the main colours in your living room, keeping the look consistent and interconnected. 
Choose a colour that you'd love to use a little more than the other two, like on your cushions, curtains, carpets or any other accessories. Forget about the colours that are trending. Use a colour that makes you happy. The best part about this theme is that you don't have to strictly adhere to any decor rules.  
2. Choose a theme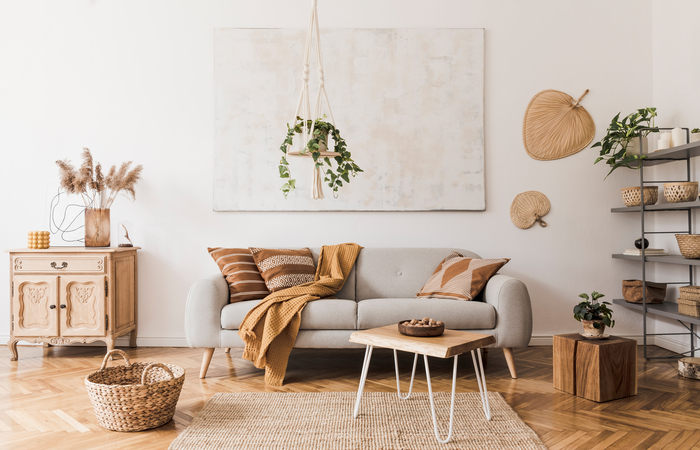 While the bohemian look is an amalgamation of a lot of different things, you'll still want your living room to have a unified look. There are numerous themes within the bohemian style—Indian, Mexican, Middle Eastern, Moroccan, natural, beachy, minimalistic, etc. You can incorporate a particular theme by emphasising on a piece of furniture or a motif. For example, you can select white as your theme and choose wood/jute textured objects and furniture pieces to place throughout your living room. This will add a layer of depth to your living room but avoid crowding it up with too many things. Remember, less is more.
3. Add unique pieces of furniture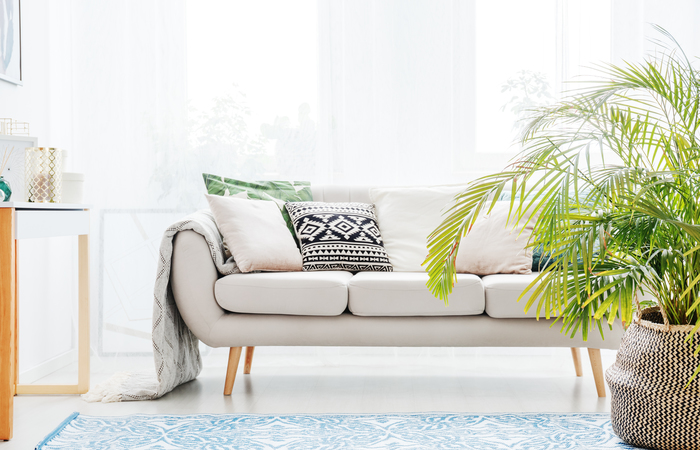 Once you've narrowed down on the colours and the theme, focus on the main pieces of furniture like sofa, coffee table, entertainment unit, etc. Bohemian-themed decor can be achieved without having to spend a lot of money. Keep the three colours in mind and place the right furniture. If you don't already have good-looking living room furniture, revamp your old furniture or just rent new ones! These simple living room designs are easy to achieve and light on the pocket. 
4. Go green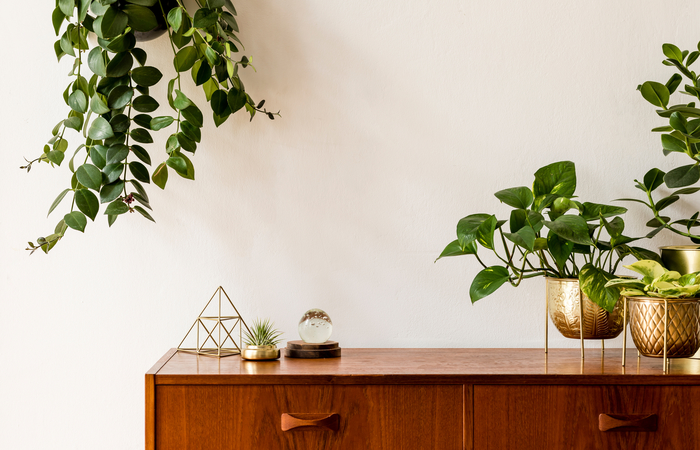 Bring in beautiful green plants inside your home for a true bohemian vibe. Long vines or modern palms can be displayed in a variety of vases. If keeping plants alive is not really your forte, opt for artificial plants. This will not only increase the aesthetic value of your living room, but it'll also bring in a calm and peaceful vibe. 
With an eye for diversity and vibrant colour choice, styling your living room into a mesmerising bohemian-themed space becomes a cakewalk!