Are you still looking for "the one"? Well, aren't we all? To watch movies, play fun games, get down to business and click cute pictures with; we need the perfect match. Finding some of the best smartphones in India that cater to all of these needs can be a bit overwhelming.
There are several choices of smartphones in the market. The competition is growing and so are the number of smartphone models. But, how would you know which one's right for you? Which is why we have curated the best smartphones in India for your personality and preference.
What's better? With RentoMojo, you can try it first and later decide if you want to buy it. Whether you are someone who uses your phone to watch a lot of movies, click pictures or for hardcore gaming, we have something for everyone. Find the best smartphone in India for your personality.
1. The movie buff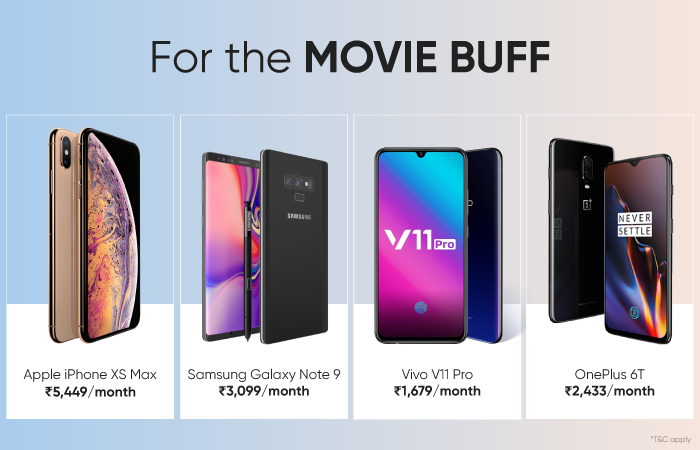 Apple iPhone XS Max, Samsung Galaxy Note 9, OnePlus 6T and the Vivo V11 Pro come with the two important features that movie buffs need in their smartphones: a big screen and good battery life. Apple iPhone XS Max has a 6.5-inch screen, which gives a great viewing experience. It also has a great battery life making it easier to binge-watch your favourite movie or TV series even when you are on the go.
Start renting one of the best smartphones in India here.
2.The selfie lover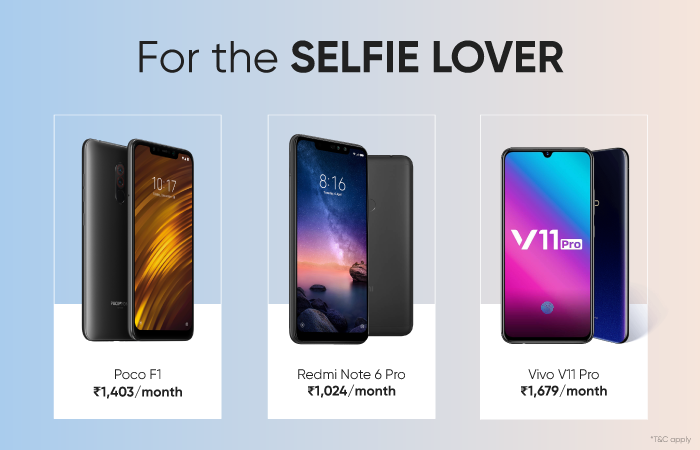 The smartphone market is filled with models that offer you amazing cameras. Because of the increasing trend of selfies, smartphones are now including high-resolution front cameras as well. We have curated 3 smartphones with the best selfie cameras:
– Poco F1 comes with a 20MP front camera and AI Beautify 4.0
– Redmi Note 6 Pro has an 20MP+2MP AI dual front camera
– Vivo V11 Pro includes a 25MP AI front camera and AI face-shaping technology
Get set to become the selfie pro.
Start renting one of the best smartphones in India here.
3.The shutterbug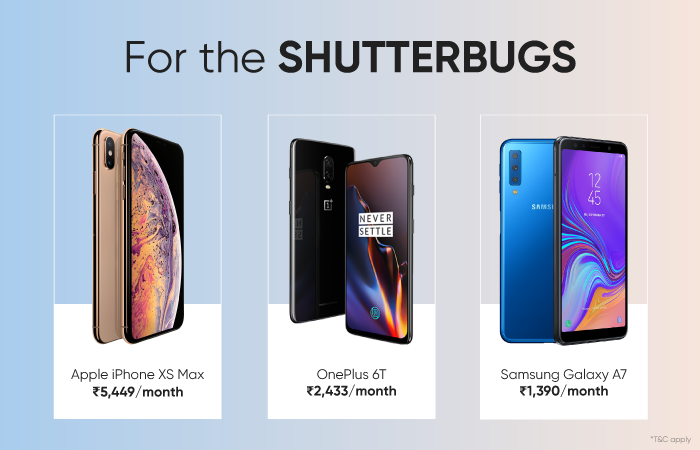 For all the shutterbugs out there, the choices for smartphones with a great camera can be a little confusing. The smartphone market constantly has newer models which claim to be better than the rest. We have narrowed it down to the three smartphones with the best cameras in the market.
Apple iPhone XS Max is undoubtedly the best smartphone for photography. It has a dual 12 MP camera with smart HDR and more low light detail delivering great action shots. The second one is OnePlus 6T which has a dual 16MP+20MP camera that comes with nightscape and studio lighting which gives you sharper and high-clarity images. The last one is Samsung Galaxy A7, which comes with a triple camera (24MP+5MP+8MP). Its ultra-wide lens lets you tell stories through your pictures.
You don't need a DSLR anymore to click photographs like a pro.
Start renting one of the best smartphones in India here.
4.The gamer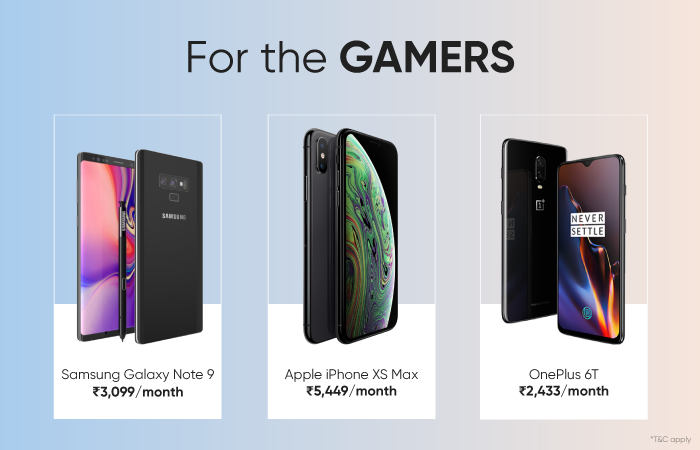 The three main features that every gamer looks for in a smartphone are: large screen, good battery life and of course, super-fast and smooth performance. Samsung Galaxy Note 9 comes with a 6.4-inch screen and the newest Snapdragon 845 processor. Additionally, it gives great battery backup. Apple iPhone XS Max is also an ideal smartphone for gaming due to its large 6.5-inch display and A12 Bionic chip that ensures amazing speed and performance.  Another phone that is great for gaming is OnePlus 6T. It comes with an Octa-Core Snapdragon 845 processor and a 6.41-inch screen.
From PubG and NFS to Fortnite, choose your game and zone out.
Start renting one of the best smartphones in India here.
5.The multi-tasker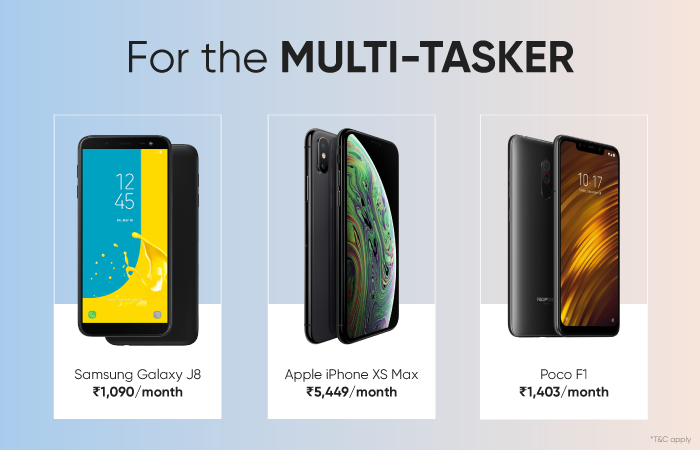 Samsung Galaxy J8, Apple iPhone XS and Poco F1 are the perfect matches for multi-taskers. The processors used in these phones ensure smooth multi-tasking, high-speed performance and great battery life. These phones are equipped to handle heavy usage.
– Samsung Galaxy J8 allows you to use chatting apps without pausing the video.
– Apple iPhone XS has the A12 Bionic chip that lowers the power consumption and incredible speed.
– Poco F1 has the Qualcomm Snapdragon 845 processor and also the most advanced nm chip.
Multi-tasking is a smooth cakewalk with these smartphones.
Start renting one of the best smartphones in India here.
6.The budget-conscious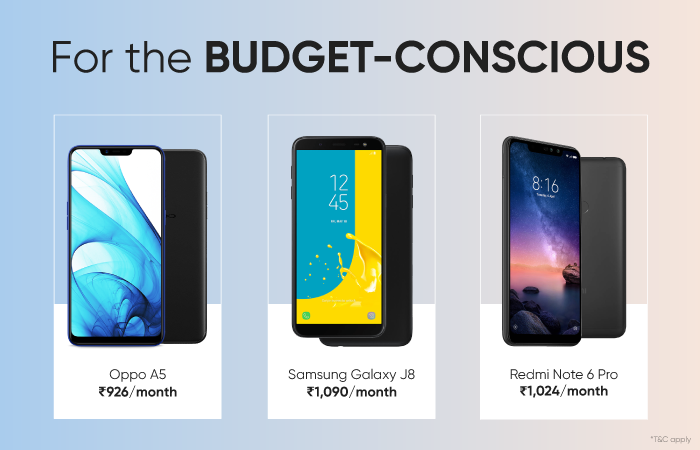 We, budget-conscious people, are not just looking for a reasonably-priced phone but we are also looking for a phone that has a decent camera, good processor, amazing battery life and overall, a phone that can do it all. The smartphones that meet these criteria are Oppo A5, Samsung Galaxy J8 and Redmi Note 6 Pro. These are the smartphones that are in the mid-range category.
Enjoy all the features that you want in a smartphone without shelling out a huge amount.
Start renting one of the best smartphones in India here.
Now that you know which is "the one" for you, stop waiting and start renting.