You might be enjoying the highlights on your phone, but are you really making the most of this IPL season?
You might be a Daredevil or a Knight Rider or a Royal Challenger. But there's one problem common to a LOT of us – how and where do we watch the IPL matches? Let's face it, we're all on budget here and if you're living away from your parents', chances are you don't have TV. And you might be thinking – "who needs a TV when you can comfortably watch everything from the comfort from your bed", right?
Well, mostly. Because nothing, and we repeat, nothing beats the thrill of watching the GayleStorm on a big flat screen! And that's why sifted through an entire fandom's worth of internet to bring you the best way to enjoy IPL season in a larger than laptop manner. 
1. Rent a TV and Couch
What's a better way to enjoy a game night than to call over you buddies, pop open some drinks, and enjoy from the comfort of your very own home? Renting a TV, a couch and a fridge is just the trifecta of products you need to make this sports heaven happen. Plus, you get to keep the product for as long as you want. So, be it cricket night or football fever, you can always be on top of your game!

RentoMojo's incredible offers can help you score some great discounts to help your pocket. And did we mention that their TV rentals start only at Rs.539/month ? That's lesser than getting two beers at your neighbourhood bar! Explore all products here and get started on your Gaming Den.
2. Xtreme Sports Bar – Bangalore

It's hard not to mention Xtreme Sports Bar when talking about outdoor places to catch the match! With beer on tap, exclusive IPL deals and a very happening ladies night, this place has all the right ingredients to make you say HOWZZAT!
You can find the one closest to you here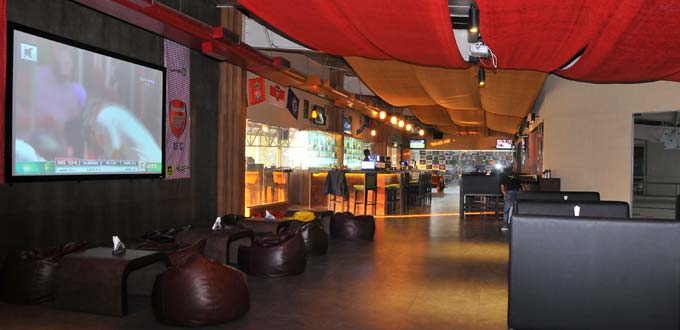 3. Vakaoo Sports Lounge – Mumbai
Cricket and Mumbai have had a unique relationship. Thanks to Mumbai Indians' roaring success, the cricket force is strong in this city! And just for once, not having a TV might not be that bad. The restro-bar's large screens and an all around cheerful atmosphere let you relive the spirit of the game. What's more? It's relatively pocket friendly and there's plenty of great food options to choose from. You can see their upcoming events here.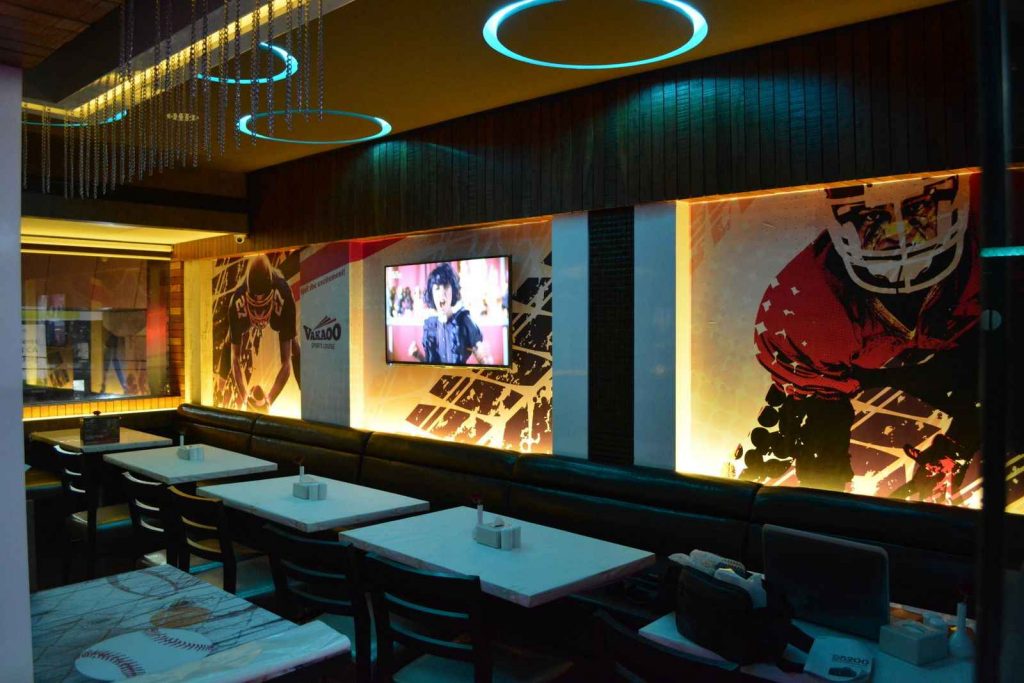 4. Game of Legends Sports Bar & Grill – Delhi NCR
Dilliwalon! Here's the spot that's become talk of the town in the last year. Owing to it's amazing location and affordable menu, Game of Legends has become quite the crowd pleaser. On most game nights, one can hear war cries of their teams while guzzling down some beer. Usually early on in the matches, the club mutes the TV and lets you enjoy the visuals with a steady flow of pop music. Once the crowds settle in, the match commentary takes over the speakers. A truly bonding experience for all IPL junkies! Cool fact – It's actually quite close to Virat Kohli's home in Delhi, so you know where all the cricket fever arises from.
Check them out here.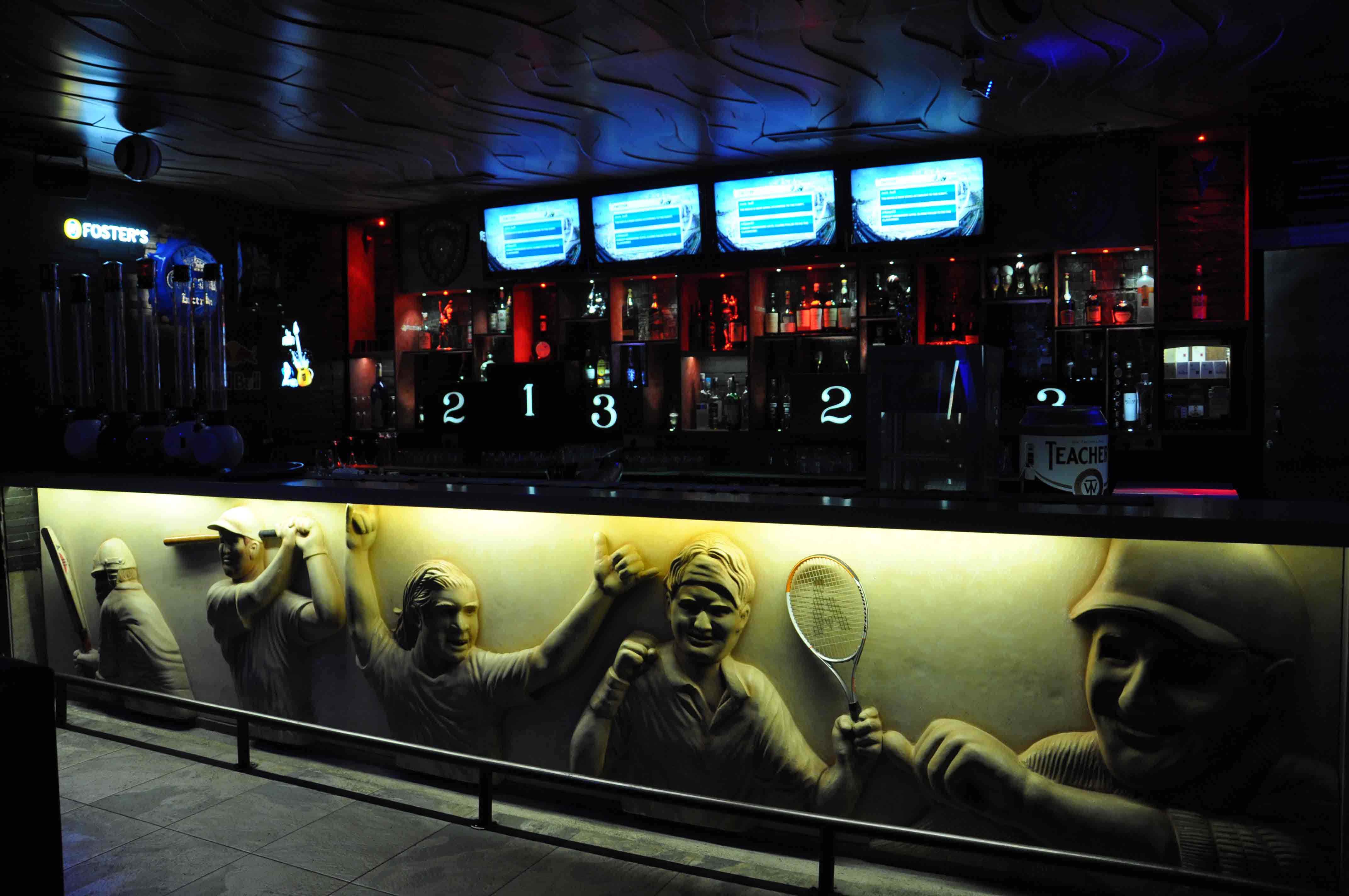 5. 10 Downing Street – Hyderabad
Located in  Gachibowli and Begumpet, this one's sure to give you all the excitement of a live game with the atmosphere of a quaint old speakeasy. Their IPL special menu, served with 6 beers and the enthu-cutlet crowd can get even the non-cricket fans in the spirit. Easy on your pocket, this lounge is also very famous for their seafood and their iconic lasagna!
Know more about the upcoming discounts here.

6. Replay Sports Bar – Pune
This one's not your run-off-the-mill sports lounge. Instead, it's a beautiful outdoorsy space where a ton of events take place. As with most games, they also screen the IPL matches in the open-air area, giving you the vibes of being in an open stadium. If that doesn't come close to a live match experience, we don't know what will! They usually have offers going on for IPL matches, and even if they don't, don't worry – Replay prides itself on being the "budget-friendly" bar. That should take care of your game day excitement as well as your pocket! Check out their current offers here.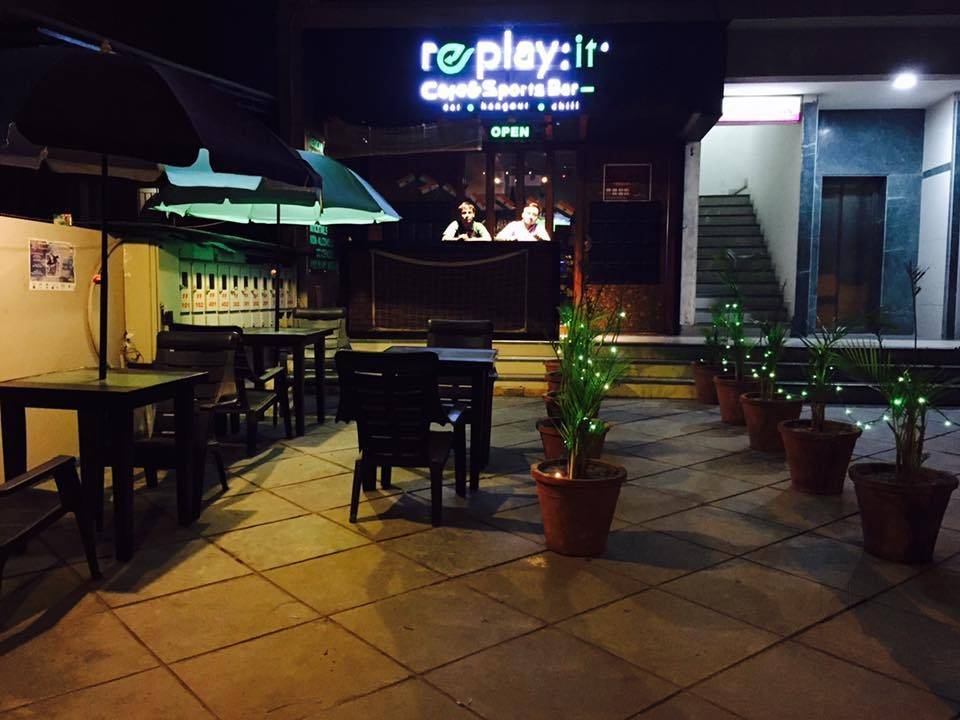 Now, that's a lot to pick from, isn't it? You have no reason to be stuck to your mobile or laptop screen in hopes of catching the delayed field action or waiting for highlights on your facebook feed. If you're the textbook definition of an introvert, there's always the first (and the most convenient) option – just rent it! The comfort is unbeatable and you are the king of controlling the atmosphere. Be it IPL trivia night or Shooters for Sixes, the choice will be all yours, not to mention the great benefits you'll get by renting!
Do you think we missed out any other great ways? Share them down in the comments!