When you are decorating your home, whether it's a single room or your entire house, sticking to a particular theme might seem daunting. But, for a beautiful well put-together look, it is important to pick a decor theme for your home.

Understanding different themes can be a little confusing. Contemporary and mid-century, boho and eclectic, minimalist and modern—these can seem very similar but there's a lot of difference. To make it easier for you, we have deconstructed 8 trending decor themes with their elements. Go ahead and decorate your home to get the desired look!
Start your decor journey with the right furniture within the right budget.
Decor theme #1: Victorian
The Victorian style is considered one of the classiest and has been in trend from a very long time. The Victorian theme is timeless. It includes a lot of color and pattern options.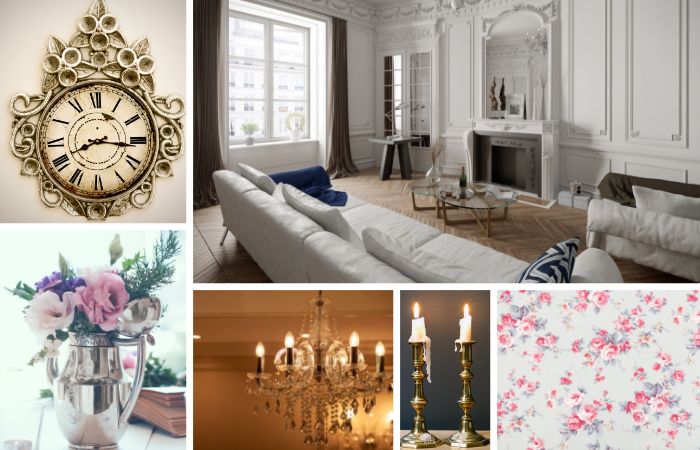 Get the look:
Start by painting your walls in muted colors (pale pink, lavender, powder blue, etc.) Make one wall your accent wall by adding a floral wallpaper in light colors.

Use intricately-designed carpets and floor-length curtains.

Another easy way of getting the Victorian look is by adding carved wooden decor elements like mirrors, wall clocks, and picture frames. Adding crystal or metallic finish vases with flowers will make your decor classier.

For the final touches, nothing screams more Victorian than chandeliers, candelabras and ceramic lamps with floral lampshades. Add warm lights in every corner and you'll have a beautiful Victorian-themed home!



Decor theme #2: Moroccan
This theme has a lot of Arabic and European influence with lively colors and beautiful patterns. Though the focus of this theme is more on the architectural side, it is easy to achieve this look by adding only a few decor elements.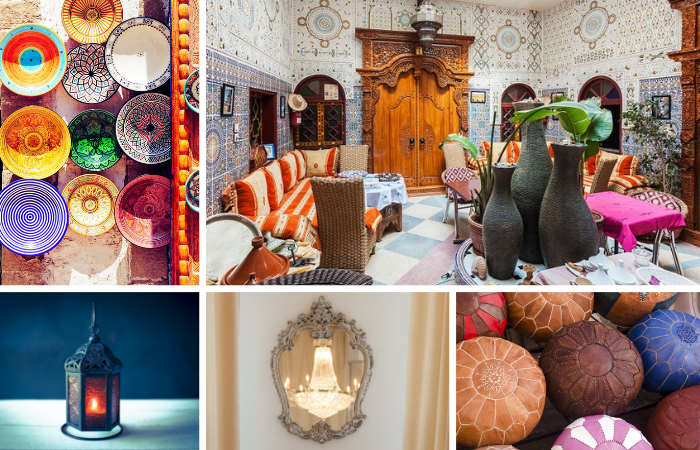 Get the look:
The color scheme of this theme isn't too strict. Blue is the most commonly used color in this theme. You can use both muted and bright colors.

Moroccan theme is all about using big statement decor accessories like vases, Moroccan lamps, pots, etc.

Use decorative plates and big mirrors as your wall decor.

When it comes to the use of fabric (curtains, upholstery, bedsheets, cushions, etc.), mix up colors and patterns.

Leather pouffes and big L-shaped couches will complete this look.
Decor theme #3: Indian
The contemporary Indian theme is all about colors, prints, motifs, and textures. This theme is very flexible and leans a lot towards handicrafts and traditional prints and patterns.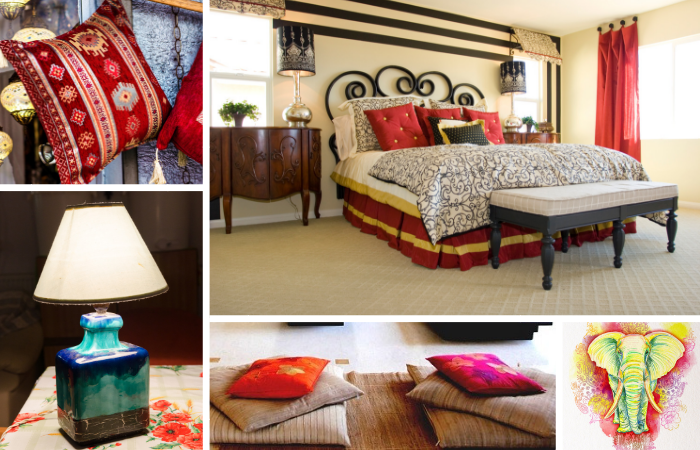 Get the look:
The first and foremost thing to do is be generous with the usage of colors. The more commonly used colors in this theme are shades of red, pink, orange and yellow.

Add plants in every corner of your house. Preferably, use earthen pots for the plants. Big wooden framed mirrors and photo frames will make great accessories for this theme. If you are a fan of artworks, adding tribal or folk art will add a great touch to your interior decor.

Use natural fabrics with hand block or ikat prints. You can even dive into the wide range of hand-printed fabrics that are available in different states of India and pick your favorite.

To complete the look, add handcrafted lamps, rugs, decor accessories, etc.
Decor theme #4: Contemporary
The contemporary theme can be a little difficult to understand because of its ever-evolving nature. To put it simply, contemporary is nothing but the current trend but isn't as strict as modern decor theme. This theme is all about elegant lines and neutral shades.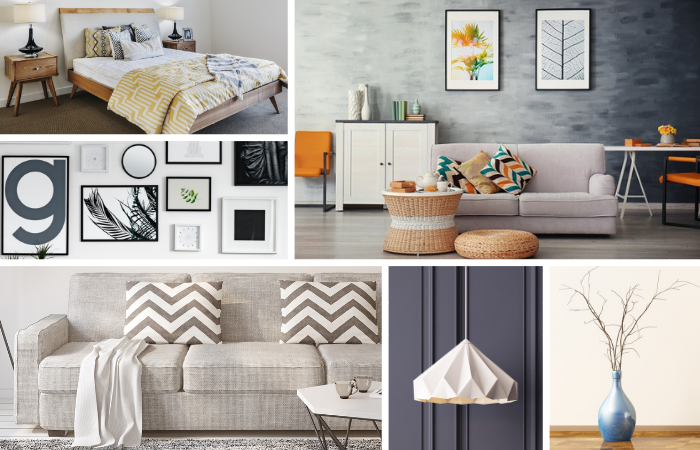 Get the look:
If you want to choose colors for this decor theme, it is best to stick to neutral colors like beige, white and greys and add a pop of color using decor elements.

You can create a gallery wall using a monochromatic style with simple frames. Adding accessories like light fixtures, lamps, tables and chairs in geometric shapes will give it a more contemporary look.

Play around with the patterns on cushion covers, pillows and throws and keep the base color neutral.

Don't forget to add statement decor pieces like vases, bookends, etc.
Decor theme #5: Minimalistic
The concept of minimalism has become pretty popular over the years. Negative spaces, simplicity, functional items and clean lines—these are what you need to keep in mind if you are planning to go for a minimalistic decor theme.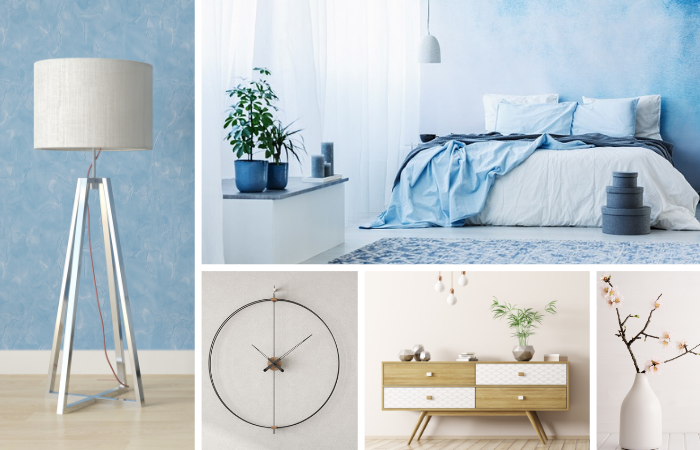 Get the look:
Use hushed tones to paint your walls. The best thing to do is stick to a color scheme from the same hue to bring in some dimension.

Choose your decor elements and furniture very carefully. Ensure that each item is functional or multifunctional, simple and has clean lines.

Let the natural light come in. This brightens up the space immediately and gives out a positive vibe.

When it comes to minimalism, less is more.
Decor theme #6: Bohemian
The Bohemian decor theme is popular among the millennials. It is fun and effortless without any hard and set rules that need to be followed. If we had to describe the bohemian theme in three words, it'd be free-spirited, colorful and personal.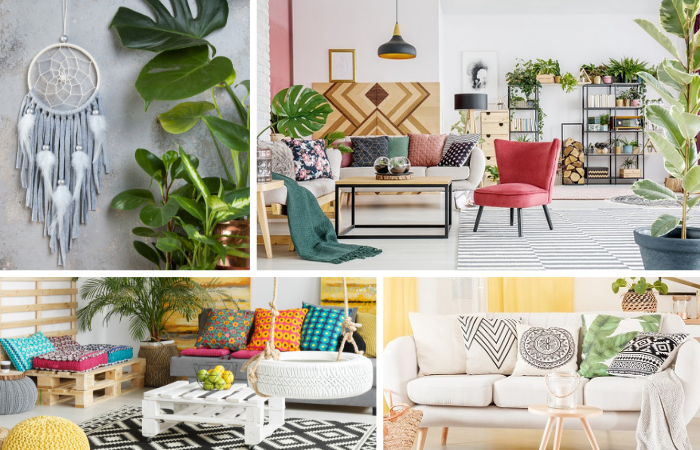 Get the look:
Start by painting your walls in any color you want. You can even use wall decals, wallpapers or paint a mandala to create an accent wall.

Go green! Use a lot of plants and succulents to bring in the nature aspect of the bohemian theme.

Layer your fabrics and use different textures to create some depth. A lot of cushions and a cozy throw on your couch will do the trick. Mix and match prints and patterns. This gives the theme a chaotic beauty!

Cover your floor with beautiful area rugs and use flowy floor-length sheer curtains. Fill every space and personalise it with your favorite decor pieces that you might have collected during your travel or flea market visits.

Adding decor and lighting elements like scented candles, fairy lights, dreamcatchers and macrame will pull the look together.
Decor theme #7: Eclectic
This theme isn't a very common or popular theme yet. It's futuristic, unexpected, bold and unique—basically, a funky mix of different styles and eras. Use of unique shapes, bold colors, uncoordinated furniture and decor is what makes a decor theme, eclectic!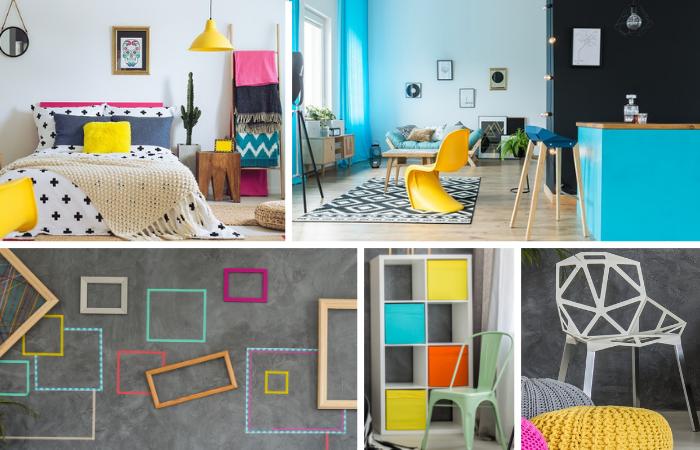 Get the look:
Just like the bohemian theme, you can paint your walls in any solid color that you like, from white and black to neon pink. Literally any color! Go for light fixtures, lamps and accessories that have a unique shape. Add pops of colors using decor elements.

You can even paint your furniture, countertops and table tops to match your color scheme.

While decorating your home using this particular theme, add unique and unexpected pieces of decor. You can DIY an abstract wall art, use a ladder as storage space, add colorful baskets as drawers in a shelf. Let your creativity flow!
Decor theme #8: Industrial
The industrial decor theme has a very raw and vintage vibe to it. This look usually has exposed pipes, beams and panels, brick or concrete walls, wooden or concrete flooring and simple vintage decor elements. The primary materials used to achieve this theme are usually wood, metal and leather.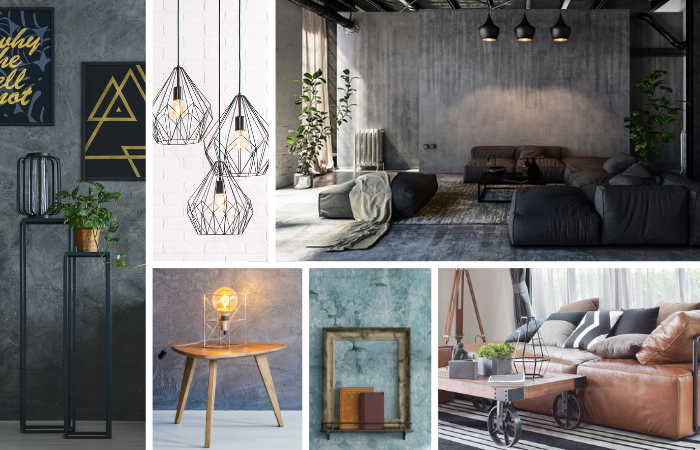 Get the look:
The color scheme is very neutral with mostly grey tones. You can give your walls a rough finish with a cement grey color.

Use metal light fixtures, lamps and decor elements. For a classic industrial look, use filament bulbs.

Use heavy fabrics in shades of brown, grey or black. Solid colors, stripes and simple patterns are what goes best with this theme.

Add simple decor elements that have a vintage or rugged look. A simple rule to follow if you want this look is to not conceal flaws or rough edges.